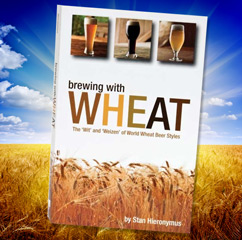 Here at the AHA, we're always working to make sure our members are well-read, and we also like to save them a few bucks when we can. That's why we're running a special AHA member discount during the month of September—20% off Brewing With Wheat, by Stan Hieronymus.
This best-selling Brewers Publications title has won praise from all kinds of brewers, like Sam Calagione, founder of Dogfish Head Craft Brewery: "In Brewing with Wheat Stan Hieronymus has given homebrewers, craft brewers, and beer enthusiasts alike a wheat-fueled flux-capacitor that will transport them from region to region around the world. This page-by-page journey will satisfy the reader's thirst for the knowledge, history, and science needed for producing and enjoying the wide spectrum of wheat beers."
Sound good to you? For starters, make sure your AHA membership is current. If it isn't, join now! Make sure you're logged in to your member account on the web store to receive the special pricing. Please let us know if you have any difficulties retrieving your login information.
Homebrewers Association
Homebrewers Association