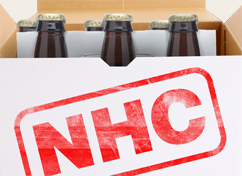 Often times the hardest part of entering your homebrew in a competition is getting it there in one piece. The National Homebrew Competition (NHC) has included tips and suggestions to achieve this outcome in the 2011 NHC Rules & Regulations
. Look under Part III, paragraph H, "Packing and Shipping Hints" for information. In addition, you can download "How to Pack Your Beer," by Russ Wigglesworth from the Zymurgy Free Downloads page. Hopefully this information will help you get your entries to the correct Judging Center in one piece and on time.
The Shipping/Drop-off window for entries to the First Round Judging Centers begins Monday, March 21, 2011. Entries must arrive at the appropriate Judging Center shipping/drop-off location between March 21st and Wednesday, March 30, 2011. Entries arriving after the shipping window will be disqualified.
All entries that are dropped off must be packaged in a box with packaging material and with the address of the shipping/drop-off location on the outside. Entries that are dropped off and that are not packaged this way are more likely/almost certain to be lost or broken. It's your homebrew; don't let it suffer this horrible fate.
Note: It is illegal to send your entries using the U.S. Postal Service. Read the 2011 NHC Rules and Regulations for more information.
GOOD LUCK IN THE COMPETITION!
Homebrewers Association
Homebrewers Association