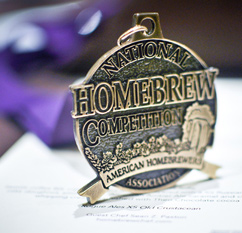 It's the moment you've all been waiting for! Registration for the American Homebrewers Association 2013 National Homebrew Competition opens today, February 26 at 1 p.m. MST (3 p.m. EST). It is recommended to have a first choice and second choice judging center chosen before starting the registration process. Links to each individual first-round judging centers will be posted on the competition entry page as well as sent out via email before registration opens. The competition will fill up quickly!
2013 Competition Changes
The rules and regulations for the National Homebrew Competition have been updated this year. Be sure to read over the complete rules and regulations for a full rundown of the competition changes for 2013.
Registering Using Internet Explorer
If using Internet Explorer as your browser, please make sure you have the most recent version available prior to registering for the competition. A minimum of IE8 is required to access the online registration.
About the National Homebrew Competition
The National Homebrew Competition is the world's largest international beer competition, recognizing the most outstanding homebrewed beer, mead, and cider produced by amateur brewers worldwide.
Homebrewers Association
Homebrewers Association