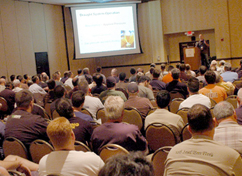 Homebrewer homework time! Ever wanted to learn the intricacies of beer and food pairing? How deep is your English Beer Style knowledge? Ever felt the itch to start your own brewery? These questions and thousands more can be answered by checking out the 2010 National Homebrewer Conference Speaker Presentations. There are hundreds of pages of free downloads plus videos and podcasts. Want to dive even deeper? Check out previous years presentations /speakerspresentation.html" target="_blank">here.
While you wait with bated breath for next year's conference (read: beer breath), check out the 2010 Conference Digest, which was created while on-site in Minneapolis and should give veterans and newbies alike a glimpse into what the National Hombrewers Conference is all about!
You can also browse a few slideshows of our favorite photos from the conference events. Check out the competition for next year's Club Night and find the inspiration you need to get down to San Diego next year!
We were also busy Facebookin' while at the conference! Visit the AHA Facebook page and look through the posts from June 15 – 18, 2010.
Save the Date!
The San Diego local committee is already hard at work planning the 2011 conference (June 16 – 18) judging by this awesome video they put together:
Homebrewers Association
Homebrewers Association