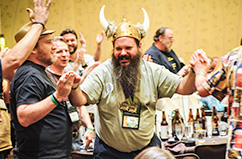 The Pacific Northwest's showers don't dampen homebrewers' spirits
Boulder, CO • June 23, 2012—After 34 years, the National Homebrewers Conference continues to wow attendees with in-depth seminars, fun social events and great homebrewed beer. Seattle, Wash. hosted the event for the first time, where visiting homebrewers enjoyed the local flavor, from the Emerald City's famous local beer, all the way down to the Grand Banquet menu, which gave a nod to the region's excellent seafood.
Read the complete press release.
Homebrewers Association
Homebrewers Association