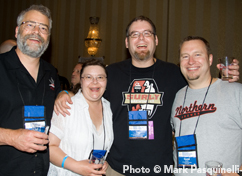 With nearly 1,300 homebrewers, professional craft brewers and beer enthusiasts attending the sold-out 2010 National Homebrewers Conference last week, it was the largest gathering in conference history.
Homebrewers from across the U.S. and around the globe gathered June 17-19 in Minneapolis, Minnesota to renew their ties with fellow homebrewers and the homebrewing hobby. The event has been hosted annually for 32 years by the American Homebrewers Association (AHA).
Find out what you missed!
Read the official post-event press release on the Brewers Association's press page, watch an awesome video summary of the whole conference from Brewing TV, check out the great posts and pictures on our Facebook page and find out what great seminars you missed at AHAconference.org.
Homebrewers Association
Homebrewers Association