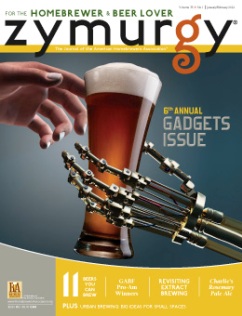 The Ever-Popular Gadgets Issue is Online
Just in time for the holidays, the January/February issue of Zymurgy is now available online. As you may have heard, all current issues of Zymurgy are now available in online eZymurgy format, in addition to print. Along with the Gadgets feature, this issue includes 11 recipes, Great American Beer Festival Pro-Am Competition winners, an article on revisiting extract brewing and Charlie's Rosemary Pale Ale recipe.
This is an exclusive AHA member benefit, so make sure to log in to access eZymurgy. If you're not yet a member, check out the free preview to see what you're missing!
Homebrewers Association
Homebrewers Association