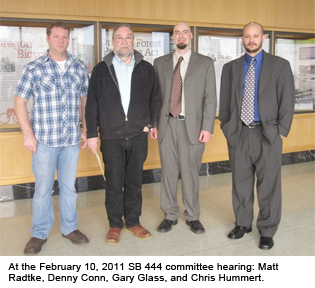 A bill is currently in the Oregon state legislature to allow homebrew consumption outside of the home where the beer was produced. Senate Bill 444 unanimously passed the Senate Business, Transportation and Economic Development Committee Thursday, February 10, 2011. The bill could go to Senate for a vote as early as next week.
The committee heard testimony from American Homebrewers Association Director Gary Glass, Chris Hummert representing the Oregon Brew Crew and the Oregon Homebrewers Alliance (OHBA), and Denny Conn, AHA Governing Committee and Cascade Brewers Society member and OHBA representative.
The American Homebrewers Association (AHA) is supporting the efforts by the Oregon Home Brewers Alliance to resolve this issue and thanks Greg Bolt, Denny Conn, Ted Hausotter, and Chris Hummert for their unwavering efforts through OHBA to make changes in homebrew laws in Oregon.
The OHBA has been working with Senator Floyd Prozanski, a homebrewer, on Senate Bill 444. While there are other bills addressing homebrewing, the OHBA and the AHA support SB 444 as the most comprehensive of those submitted. If passed SB 444 will restore legality to all of the activities homebrewers participated in prior to the reinterpreation of Oregon's homebrew law last year, including entering homebrew competitions and sharing homebrew at club meetings.