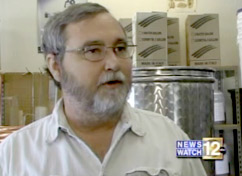 The Oregon Liquor Control Commission (OLCC) recently ruled that Oregon's alcohol regulations do not allow for homebrew competitions held at public events like the Oregon State Fair, which has held a homebrew competition for the last 22 years. The ruling could have implications for homebrew served during homebrew club meetings held at businesses with liquor licenses as well.
The law itself would seem to back the OLCC's new position, which was developed in consulation with the Oregon Department of Justice. However, the change in interpretation of the law, after many years of allowing homebrew competitions to take place, has led to confusion and disappointment among homebrewers throughout the state.
Oregon's homebrewers have reacted quickly to the ruling. A group of homebrewers representing homebrew clubs from across the state has formed the Oregon Home Brewers Alliance (OHBA) to address the situation. Oregon homebrewers can check out the newly posted OHBA website, www.oregonhomebrewersalliance.org, to stay informed on the issue. In addition, the American Homebrewers Association (AHA) will send action alerts to Oregon AHA members whenever direct action is needed.
The cancelation of homebrew competitions at the State Fair, as well as numerous county fairs, has generated a substantial media response (see links below for a sample of the media coverage so far). It has also drawn the attention of several Oregon state legislators, including the Speaker of the House Dave Hunt, who are already planning for a bill to remedy the situation in the up-coming 2011 legislative session.

KEZI (Eugene TV)
KOHD News (Bend TV)

KATU (Portland TV)
KDRV (Medford TV)
KOIN  Local 6 (Portland TV)
Statesman Journal (Salem Newspaper) 
Willamette Week (Portland Newspaper)
Homebrewers Association
Homebrewers Association