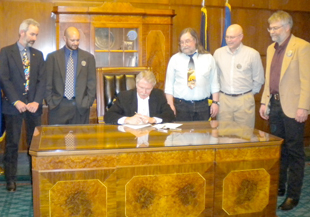 On Monday, March 28th, Oregon Governor John Kitzhaber signed into law Senate Bill 444. It had been nearly a year since the Oregon Department of Justice determined that existing Oregon law did not allow for homebrew to be served outside of the home in which it was brewed. With the signing of SB 444, Oregon homebrewers can once again legally enter homebrew competitions and bring homebrew to homebrew club meetings and events.
Shortly after the 2010 reinterpretation of the state's homebrew law, Oregon homebrewers formed the Oregon Home Brewers Alliance (OHBA) to push for change in the state's alcohol code to allow homebrewers to once again share their brews at club meetings and competitions. The American Homebrewers Association worked with the OHBA leadership throughout the process.
Oregon State Senator Floyd Prozanski introduced SB 444, drafted with input from OHBA and the AHA, at the start of the 2011 legislative session. The bill was unanimously passed in every committee hearing and assembly vote it faced in both the Oregon Senate and House. The bill's successful passage was aided by the many Oregon homebrewers contacted state legislators and particularly by the leadership of the OHBA, including Greg Bolt, Denny Conn, Ted Hausotter, and Chris Hummert, who championed SB 444 from start to finish.