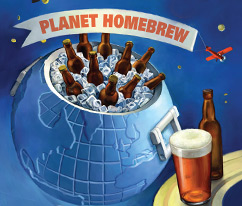 The cover story of the March/April issue of Zymurgy comes to us from homebrewing legend and author, Randy Mosher. Randy's passion for beer has taken him all over the world and in "Planet Homebrew: Good Beer's Global Movement," he relates what's going on in homebrewing across the globe. The article includes nine recipes and profiles homebrewing in Italy, Sweden, Scandinavia, Brazil, Argentina, Australia, New Zealand, and his hometown, Chicago.
Here's an excerpt from the article found on pages 18-27 of your March/April Zymurgy magazine or eZymurgy. If you're not currently an AHA member, join or renew today and access the eZymurgy issue instantly!
As someone who has been brewing for decades, it has been fascinating to witness the amazing transformation of homebrewing from a disjointed, rather primitive hobby to the sophisticated and well-connected community we have built.
I have had the ridiculous good fortune to be able to travel around the world on beer business over the last three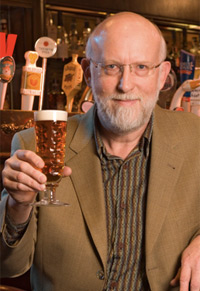 years, and have gotten a close-up look at what's happening beyond our shores, and boy is it happening! Legion of hobbyists, connoisseurs, and entrepreneurs are rising up everywhere, no longer willing to put up with the lack of variety and vapidity of industrial beer. As a result, good beer is exploding all over the world. Homebrewing is now a global movement.
Global homebrewers are inspired, as we in the U.S. were, by the classic brewing traditions of Europe, but also by the feast of variety and excitement going on here in the U.S. And more often than not, they are adopting our model as the one to build on.
Wherever you find it, homebrewing attracts the same kind of curious, open-minded, passionate, and creative enthusiasts. It is the hobby;s most valuable asset—we are passionately stricken by the beer bug.
Featured Recipes
Lampo Bianco: Witbier with Muscat Grape Juice
Dado Duro: Brown Ale with Chestnuts and Honey
Smokesbord: Swedish Smoked Ale with Juniper
Valkyrie Tears: Scandinavian IPA with Bog Myrtle
Monkey Toes: Brazil Nut Dark Ale with Rapadura Sugar, Conditioned on Ipe Wood
Vida Dulce: Dulce de Leche Porter
Wattle Itbee: Roasted Wattleseed Brown Ale
Smoke Signals: Sonoran Black Ale with Mesquite-Smoked Malt and White Sage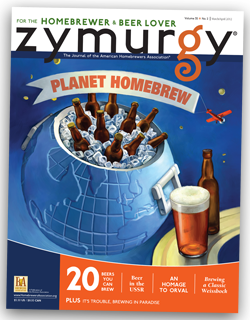 About Randy Mosher
Randy Mosher is an author, lecturer and consultant on beer styles and brewing. He is an instructor for the Siebel Institute in Chicago and the author of The Brewers Companion, Radical Brewing and most recently, Tasting Beer. Randy is also a partner and creative director for 5 Rabbit Cerveceria, the USA's first Latin craft brewery.
About the March/April Zymurgy
Have you checked out your March/April Zymurgy yet? This issue has a distinct international theme, with features on the history of Soviet beer in "Beer in the USSR"; brewing in the tropics in "It's Trouble, Brewing in Paradise"; and the account of an Australian duo brewing their version of a Belgian classic in "An Homage to Orval."
Homebrewers Association
Homebrewers Association