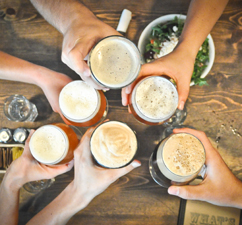 If you like saving money, you'll love this!
The Pub Discount Program has not only been expanding steadily, but now has a new name—AHA Member Deals—that reflects the incorporation of other types of businesses beyond pubs, including homebrew retailers.
Why the change?
First of all, we want to give you, the AHA member, even better benefits! Many homebrew retailers already offer deals to AHA members, but they weren't getting recognition for those offers. By changing the program name and incorporating businesses beyond pubs, the AHA can give those businesses the recognition they deserve, help them grow and encourage them—and others—to provide more special offers to AHA members.
Will my member card still work?
Not to worry! The name is changing, but your trusty old AHA card will still give you the same great benefits and discounts you've already been enjoying. In fact, we're going to make it even easier to use that card with an online AHA Member Deals locator to help you find all the businesses near you that provide special offers. Just visit AHAMemberDeals.org on your mobile device's web browser to find local AHA Member Deals.
Get your business involved
Do you own or operate a craft beer business that's interested in participating? Please contact AHA Business Coordinator Steve Parr for more information on becoming involved with the program.
Not an AHA member? Join us to save money at one of the nearly 700 AHA Member Deals participants!
Homebrewers Association
Homebrewers Association