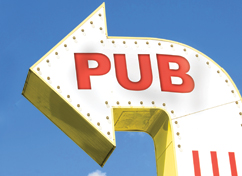 The American Homebrewers Association (AHA) and the Brewers Association (BA) have teamed up to provide discounts from BA members to AHA members. What collaboration! AHA members have access to discounts* at over 550 breweries, pubs and beer bars in the US and Canada. Discounts range from 10% off Beer, Food and Merchandise to Happy Hour Pricing All Day. You could even get a Free Pint Glass here and there. Each location offers a different discount, just to keep you on your toes!
To check out the most current and up-to-date listing of Pub Discount Program, bookmark www.homebrewersassociation.org/pages/directories/find-a-pub-discount and visit it each time you head out for a beer, take a trip or plan your next vacation. Great beers await you around every corner!
* Discounts are only for the card-carrying AHA member. AHA members must be 21 or older to receive discounts. Some states prohibit free or discounted alcohol. Pubs must obey state law in this regard.
Homebrewers Association
Homebrewers Association