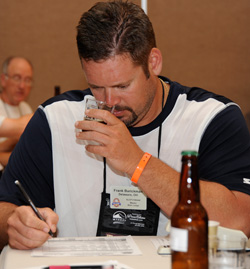 Think your homebrew club makes some pretty good beer? Have you ever wondered how it stacks up against other clubs' beer?
The Club-Only Competition (COC) program offers AHA-Registered Homebrew Clubs an opportunity to compete with other clubs. Each competition concentrates on a specific style of beer or mead, helping brewers learn more about these styles.
AHA homebrew clubs also organize and judge the competition. This
gives your club a chance to learn more about homebrew competitions, beer evaluation, and judging procedures. For a copy of the Club-Only Competition guidelines for host clubs, contact the AHA at aha@brewersassociation.org.
Find out more information on AHA Club Only Competitions and get
your club in the running for next year's AHA Homebrew Club of the Year!
AHA Club-Only Competition – September/October 2010
"Pucker Up" Sour & Wild Ales
Entries are due September 9, 2010 with judging held on September 19, 2010. Entry fee is $7. Make checks payable to American Homebrewers Association.
Entry Shipping:
AHA COC
22836 Ventura Blvd, #2
Woodland Hills, CA 91364
Hosted by Drew Beechum and the Maltose Falcons Home Brewing Society of Woodland Hills, CA, this competition covers BJCP Category 17 styles, plus American Wild Ales, and Specialty Wild Ales.
For more information, contact Drew Beechum at dbeechum@gmail.com.
Homebrewers Association
Homebrewers Association