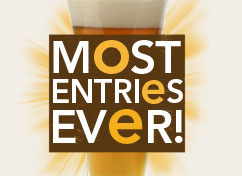 A record number of entries from a record number of brewers have been registered for this year's National Homebrew Competition!
The final number won't be known until after the First Round competitions are completed, but we estimate there are more than 6,000 entries this year submitted by more than 1,500 homebrewers. The previous record for entries occurred in 2008 when 5,644 entries from 1,308 brewers were judged. The record for brewers entering their homebrews in the competition was set last year with 1310 entrants entering 5,166 homebrews.
The First Round competitions begin with the Northwest Region judging in Seattle, WA on April 9-11. Six regions will hold their competiton April 16-18, and the final two regions will judge their entries April 23-25.
Look for the Winners List for all regions to be posted simultaneously around May 7th.
Homebrewers Association
Homebrewers Association