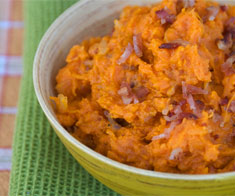 Looking for a great way to bring your latest homebrew to your Thanksgiving table? These sweet potatoes—did we mention they have bacon too—are sure to spice up your holiday table!
Ingredients
2 large orange-fleshed sweet potatoes or Garnet yams
olive oil to brush on the flesh
6 strips maple smoked bacon
1 tablespoon butter
1 yellow onion, thinly sliced
2 teaspoons light brown sugar
2/3 cup homebrew
2 tablespoons maple syrup
freshly ground black pepper
Directions
Preheat oven to 400°F. Line a large baking sheet with aluminum foil, for easy clean up. Wash potatoes and pat dry. Brush flesh with a little bit of olive oil. Place flesh side down on the prepared baking sheet.
In a large skillet over medium heat, add bacon. Cook, turning frequently, until browned and crisp, about 6-8 minutes. Transfer to a paper-toweled lined plate to drain. Cool completely. Chop finely, reserving one slice for garnish.
Once the potatoes are cooked, remove from oven and cool for 5-10 minutes. Scoop out the flesh and set aside. In a large skillet over medium-low heat, melt 1 tablespoon butter. Add sliced onions and brown sugar; stir occasionally, until the onions caramelize and turn a deep golden brown, about 10-12 minutes.
Add beer and cook 2 minutes. Add maple syrup. Stir well and cook 3-4 minutes. Add roasted potatoes and bacon to skillet. Stir well. Season with freshly ground black pepper. Garnish with reserved bacon.
The Food Blogga's Algorithm for Getting Guys To Eat Vegetables:
Don't tell them they're vegetables.
If #1 fails, then bread it and fry it.
If #2 fails, then add bacon.
If #3 fails, then add bacon and beer.
If #4 fails, then, well, #4 never fails, so don't worry about it.
---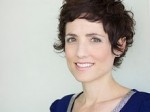 Susan, a San Diego based freelance food writer, cookbook author, and recipe developer started Food Blogga in January, 2007. It has since been selected as a "Site We Love" by Saveur magazine, "Best of the Blogs" by Delish. com, and "Blog of the Day" by the Julie and Julia website. She has two books published by Quirk Books, Recipes Every Man Should Know will be released in November 2010, and The Encyclopedia of Sandwiches will be released in the spring of 2011 and distributed by Random House. You can also find her work regularly online at One For the Table and in the Chicago Sun-Times.
Homebrewers Association
Homebrewers Association