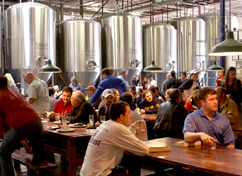 Saint Arnold Brewing Company opened the doors of their new brewing facility to American Homebrewers Association (AHA) members at their 5th Annual AHA Rally. The Saint Arnold / AHA Rally, held on February 28th, hosted the first public tour of the new brewery on Lyons Ave.
240 AHA members attended the AHA Rally. Saint Arnold offered complimentary beverages and snacks and an opportunity to meet the owner, Brock Wagner. All attendees were entered into a drawing for door prizes from the AHA and Saint Arnold.
Date: Sunday, February 28, 2010
Time: 1-3pm
Rally Host: Saint Arnold Brewing Co.
Address: 2000 Lyons Avenue, Houston, TX 77020
Web: www.SaintArnold.com
American Homebrewers Association (AHA) Rallies are free to current AHA members.
Non-members can Join Now, or sign up at a discounted rate at the door.
Learn more about AHA Membership Benefits & Zymurgy Magazine!
Homebrewers Association
Homebrewers Association