WARNING: Extreme jealousy may ensue.
In 2009, the winners of the National Homebrew Compeition were invited to attend Sierra Nevada Beer Camp. What exactly is this phenomenal sounding experience you may ask? A "100% hands-on, beer-focused adventure," where the lucky group is tasked with the creation of their own beer. During this two day camp, the group decides everything about the beer, from the name to each individual ingredient and then brews the beer on the second day. Campers are also given the opportunity to have their beer analyzed at Sierra's sensory and research labs—talk about some major insight into your homebrew!
In 2010, Beer Camp was opened to the general public for the first time. Beer lovers were asked to provide a video submission by July 9th (check out some of the hilarious videos) to explain why they should be one of the lucky ones to attend. Be on the lookout for details about the 2011 session and get your video cameras prepped and creative juices flowin'—homebrew is known to heighten creativity!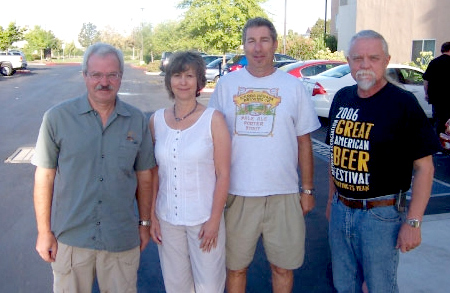 ---
In 2009, Ken Grossman of Sierra Nevada Brewing Company gave out "golden tickets" to the Gold Medal winners in the American Homebrewers Association (AHA) National Homebrew Competition. Those of us fortunate enough to win gold that year in Oakland were invited to participate in Sierra Nevada's Beer Camp. My husband Jeff and I were among the lucky kids in the candy store.
On Wednesday evening, the ten gold medalists attending Camp #13 met for beers and dinner with Steve Grossman, brother of founder and owner Ken, and Terence Sullivan in the beautiful Sierra Nevada Taproom. They were to be our hosts for the next two days. Our initial task was to nail down a beer recipe for the group to co-brew in two batches on Sierra Nevada's 10 barrel pilot system on the second day of camp.
A general style of Old Ale had been arrived at through a series of email exchanges. A selection of malts and hops were sampled and smelled, and decisions were made. We chose to use the house yeast to maintain a bit of the Sierra Nevada character. As we had selected malts from two continents and hops from three, our original name for our beer was to be Continental Drift Ale.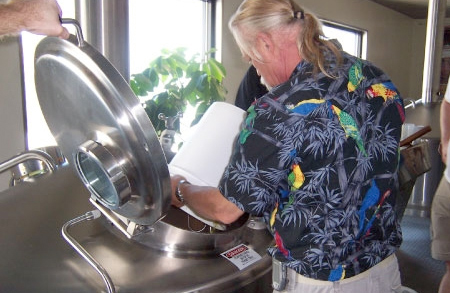 Most of Thursday was spent touring the production facility, meeting employees, exploring the hop and barley fields, and plenty of sampling. Three major impressions we came away with were:
Sierra Nevada is, and intends to stay, a family brewery. Much of what they do is with an eye on future generations. Investments are made knowing that the payoff may take several years.
Sierra Nevada strives to be a good neighbor by actively supporting the local community, and through environmental stewardship. Their efforts are visible in everything from solar panels over the parking lot, to the work of local craftsmen and artists.
Despite their size, sleek-and-shininess, Sierra Nevada is still having fun playing around with new techniques, new ingredients, and new toys. We sampled the flagship Pale Ale made with completely different hops, we saw the "torpedo" which increases utilization of the whole hops used for dry hopping, and rode around in the Wonka-esque 12 person (plus driver and barkeep) pedal powered cart.
Brew day arrived bright and early on Friday. From gathering and weighing the hops until our hands were yellow and sticky, to opening bag after bag of malts for the mill, to shoveling out the hopback, we pretty much did it all, except push the keyboard buttons to run the brewery. Unfortunately, the first mash stuck, big time, resulting in a 2:50 mash time. It was rice hulls to the rescue for the second batch. New names for the beer started to be bandied about while we waited. Alt " Stucke" anyone? Finally we came up with Old Cantankerous.
Once the yeast was finally pitched, we headed to the sensory and research labs. We viewed the equipment, and got the test results on our homebrewed beer that they had offered to analyze for us. As homebrewers, you rely on software estimates of things like bitterness units, color and pH. It was eye opening to see actual measured data, and realize that on our level you can have a little too much faith in the software. We also had the opportunity to complete some of the sensory training they use with their employees. As the afternoon ended, the rest of the homebrew came out for sampling. It was flattering to see the number of employees stopping in after work to check out our beers—and give positive feedback.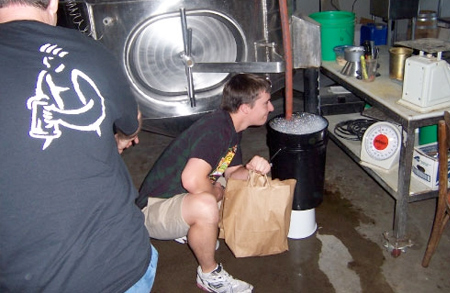 As we were flying out of San Francisco, we decided to spend some extra time out that way. We had planned to drive to Santa Rosa to visit Russian River Brewing Company. As we were taking a scenic detour (read: missed a turn), and went on a very twisty road through the mountains, CA-175, we ended up on the 101 at the town of Hopland (coincidence?) and headed south. I realized that we were very near to Healdsburg, home to Bear Republic Brewery. I made a quick phone call to see if by chance Racer X was on tap. I got the answer I wanted to hear just in time to tell Jeff, "Take this exit!" It was a wonderful bit of hoppy goodness to wake us up and ready us for Pliny the Elder and the funkification of Russian River's family of beers. We ended up spending a lovely afternoon/ evening there with two other beer campers and took a short tour of the Russian River brew house. Good thing we had hotel reservations in Santa Rosa.
The fun was not over quite yet. In December, a half barrel and a quarter barrel of Old Cantankerous were sold to Arbor Brewing in Ann Arbor, MI. Matt and Rene Greff planned a special night where the beer was tapped with a bit of fanfare. We got to swan about shamelessly like rock stars, and share our beer with friends as well as the general public.
If you ever get the chance to go to Beer Camp- drop everything and go. It was an amazing experience.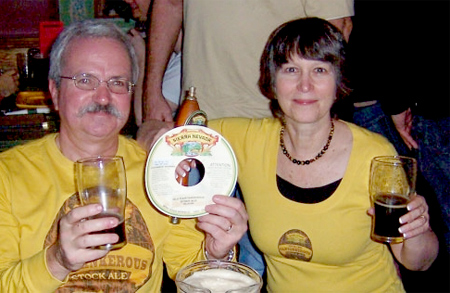 Homebrewers Association
Homebrewers Association