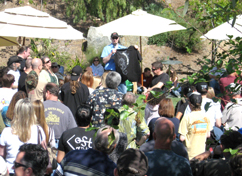 Stone Brewing Co. hosted a Homebrew Tasting Competition, in conjunction with the AHA Rally on Saturday, March 13. Selected homebrewers submitted their beers which were then judged and voted on by the 300+ attendees of the AHA Rally. A special Stone Tasting Panel judged the top five beers. The lucky winner will brew his/her beer at Stone on a large scale.
At the Rally, over 300 AHA members had an opportunity to meet Gary Glass, the Director of the American Homebrewers Association (AHA) and staff of Stone Brewing Co: Greg Koch, Mitch Steele, Steve Wagner, Chris Cochran, Mike Palmer and Stone's own "Dr." Bill Sysak.
Date: Saturday, March 13, 2010
Time: 1-4pm
Rally Host: Stone Brewing Co.
Address: 1999 Citracado Parkway, Escondido, CA 92029
Web: www.StoneBrew.com
American Homebrewers Association (AHA) Rallies are free to current AHA members.
Non-members can Join Now, or sign up at a discounted rate at the door.
Learn more about AHA Membership Benefits & Zymurgy Magazine!
Homebrewers Association
Homebrewers Association