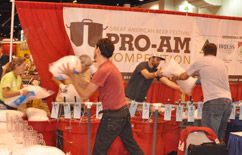 The Great American Beer Festival honors every aspect of craft beer, including its tight connection to the homebrewing community. While at the festival, you can find the AHA staff at the AHA Booth (C-12) and the Pro-Am Competition Booth (E-1).
AHA Booth
The AHA staff will be on hand to help festival-goers learn how brew better beer at home. Visitors to this booth will leave with a better understanding of the equipment and ingredients involved in homebrewing, and a connection to the national homebrewing community.
Pro-Am Competition Booth
The beers available at the GABF Pro-Am Competition Booth are based on award-winning homebrew recipes from AHA members. The recipes are scaled up and brewed at a craft brewery for submission into the GABF Pro-Am Competition. In 2011, there were a record 86 entries from across the country.
During each session of GABF, 30 of the beers entered in the competition will be on tap. Visit booth (E-1) to see if you can pick a winner before the judges do.
Homebrewers Association
Homebrewers Association