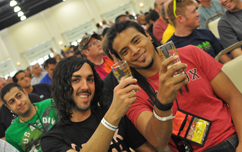 National Homebrew Competition Winners Crowned Saturday
Hundreds of hopeful homebrewers will wait with baited breath tomorrow evening as the winners of the National Homebrew Competition will be announced in San Diego at the National Homebrewers Conference Grand Banquet. If you are in California for the big event, you'll see it live and in person, but if you couldn't make it out this year, don't sweat it! Our friends at the Brewing Network will be broadcasting live from the big event. Stay tuned to the AHA Twitter and Facebook for an alert when we go live.
In the meantime, 1,900 homebrewers will be enjoying a myriad of seminars today and tomorrow at the Town & Country Resort, not to mention tonight's big event—Club Night! With 48 clubs cued up to serve their beers, it's bound to be a rollicking fun time. Don't forget, the National Homebrewers Conference website is your best source for up-to-date news and fun, along with our Facebook and Twitter feeds. Cheers to another awesome conference!
Homebrewers Association
Homebrewers Association