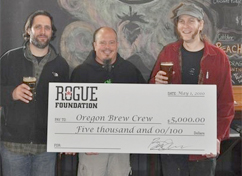 For many homebrewers it's a dream to brew their own recipes on a large scale brewing system. Well not only do the members of the Oregon Brew Crew (OBC) have the opportunity to do just this, but the beers are sold commercially and the club is receiving some money for it.
Thanks to the OBC's efforts, Green Dragon Bistro & Pub in Portland has grown to the 94th largest brewery in Oregon since the club began brewing there. Led by the Green Dragon Project Committee (made up of OBC members John Heasley, Todd Beach, Rich Hawthorne and Josh Blender), the OBC has been brewing at the Green Dragon for the last year and have consistently put out big new beers every couple weeks including Alpha Dragon IPA, Golden Dragon Ale and the recent 5-Point Exploding Palate Technique. In recognition for their efforts, the Rogue Foundation presented the OBC with a $5,000 check on May 1st as part of the celebration for National Homebrew Day.
Designated as The Green Dragon Project, the joint venture between the Oregon Brew Crew and the Green Dragon Bistro & Brewpub is more than just allowing club homebrewers to brew recipes for public consumption. The emphasis of the project is aimed at the educational aspects of all-grain brewing techniques, recipe formulation, marketability, as well as quality control. Furthermore, the group is hoping that the project will help improve the link between craft breweries, their customers, and the homebrewing community.
The Green Dragon Project Committee is responsible for nominating brewers and their recipes in order to meet the goal of releasing a new beer from Green Dragon every two weeks. This means that the OBC is brewing a batch of beer two to three times a month, with one of those slots typically filled by the winner of the club's monthly homebrew competition.
The Green Dragon/OBC's most recent release is the King Ghidorah Bière de Garde which boosts a whopping 9.2% ABV. The beer was fermented and aged in a used Rogue Dead Guy whiskey barrel, and can only be found at the Green Dragon Bistro & Pub.
Homebrewers Association
Homebrewers Association