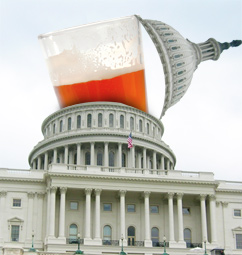 Brewing and enjoying beer has long been a part of American culture, starting with the beer-deprived Pilgrims who could not sail another day without nutritious ale. Unfortunately for the Pilgrims, there was not a commercial brewery awaiting them on the shores of Plymouth in 1620, so beer was made on a small scale in the home until a town brewery was constructed.
As commercial breweries were established and the country grew, beer enthusiasts continued brewing beer in their homes through wars, revolutions and Prohibition, maintaining the craft of homebrewing. Creating beer at home is truly an American pastime!
On May 2, 1988, Representative David Skaggs of Colorado announced before Congress that May 7 would be recognized as National Homebrew Day. Make sure to raise a glass of your finest homebrew, gather your friends and club members, and toast to the greatest hobby there is—homebrewing!
Homebrewers Association
Homebrewers Association