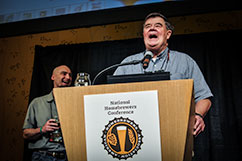 For one week only, Seattle becomes the temporary homebrewing capital of the world! Starting today, the Pacific Northwest will see 1,850 American Homebrewers Association members assemble for the 34th annual National Homebrewers Conference.
The event kicked off on Thursday with a customary Welcome Toast, but the beer lover who led the festivities was far from ordinary. Senator Ken Jacobsen, a former member of the Washington State House of Representatives and later the Washington State Senate, sponsored Senate Bill 5060 in 2009, which increased the volume of beer that could be removed from the home for events from 1 gallon to 20 gallons. The bottom line for those of us who aren't politically inclined is this: without Ken's work, we wouldn't be enjoying the beautiful Seattle area for this year's AHA conference.
So cheers to another fun year of the National Homebrewers Conference, and an especially grateful tip of the hat to Senator Jacobsen, who helped make Washington-already a great place for beer-an even better place for homebrewers, homebrew events and competitions.
Homebrewers Association
Homebrewers Association