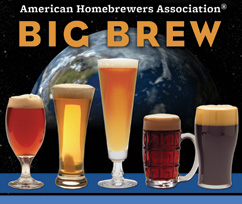 Enthusiasts will brew thousands of gallons of beer, Saturday, May 5, to celebrate National Homebrew Day
Boulder, CO • April 30, 2012—More than 1 million Americans participate in the homebrewing hobby, and on May 5, many of them will gather to brew two special beer recipes to recognize National Homebrew Day with Big Brew. In 1988, May 7th was announced before Congress as National Homebrew Day. The American Homebrewers Association (AHA) created AHA Big Brew as an annual event to celebrate National Homebrew Day around the world. AHA Big Brew is held each year on the first Saturday in May.
Read the complete press release.
Homebrewers Association
Homebrewers Association