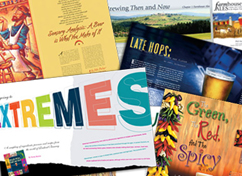 Feature articles from Zymurgy magazine, the Journal of the American Homebrewers Association (AHA), are available online as free downloads. There are 29 published articles and one complete magazine, Zymurgy: An Introduction to Homebrewing, accessible to everyone.
So, whether you'd like to get started brewing for the first time, you need some tips on making a yeast starter or you're looking to learn more about hops, mead, farmhouse Ales and more…. head over to Zymurgy Free Downloads and start learning. A whole world of brewing knowledge awaits you.
Zymurgy is a benefit of membership to the American Homebrewers Association and also the longest running homebrewing magazine. Since 1978, Zymurgy magazine has been the leading light for amateur brewers in North America and around the world. It features innovative and award-winning recipes, articles on do-it-yourself equipment building, explanations of brewing science, and presentations of brewing techniques in addition to a healthy dose of beer culture.
Zymurgy represents the best of homebrewing with articles that appeal to every level of interest in the homebrewing hobby. Published six times each year, Zymurgy includes an annual "Winners Circle" special issue (September/October) that includes recipes for all of the AHA National Homebrew Competition gold medal winners.
Homebrewers Association
Homebrewers Association