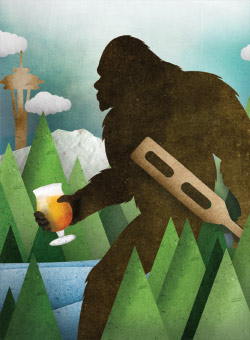 By Tom Schmidlin
Everyone knows Seattle—it's the birthplace of grunge and Jimi Hendrix, the home of Starbucks, Microsoft, and Boeing, and a place full of sandal-wearing, latte-drinking, hi-tech, hippie freaks. Oh yeah, and rain.
Yes, we have all of that and more, including a strong craft beer and brewing culture that is getting ready to celebrate its 30th year. The popularity of craft beer in the area is perhaps best illustrated by the fact that we have nine microbreweries—that is, nine microbreweries that start with the letter A. About 70 breweries are within an hour's drive, and even the dive bars have a good selection of craft beer on tap.
This year's sold-out National Homebrewers Conference will be June 21-23 in the heart of downtown Bellevue, Wash., just across Lake Washington from Seattle. With the Hyatt Regency Bellevue as your home base, you can easily walk to a wide variety of breweries and bars. Wineries and shopping aren't far away, and there are some great restaurants nearby. And by all means, come early! Featuring at least 64 breweries, the Washington Brewers Festival will be June 15-17 in Redmond's Marymoor Park, about seven miles away.
Read the entire Zymurgy Online Extra.
Homebrewers Association
Homebrewers Association