This week's featured system comes from John Parker of Portland, Oregon. Originally from Alabama, John has been a homebrewer on and off for about 20 years. He started extract brewing while in the Army and quickly progressed to all grain brewing. He began the hobby with a five gallon cooler system before fabricating a HERMS-like cart system, which has roughly 85 percent efficiency and looks awesome!
The idea to build this system was to make great beer, share his passion with others, and to honor his late companion and beer aficionado, his dog Bailey. "He would always get so excited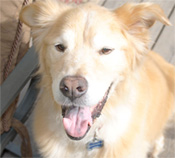 and watch me on brew days", said John.
The frame is constructed of 1/2 square tubing, welded by a friend, that measures 6′ long, 30″ high and 18 " deep. It has four large lawnmower wheels on axles for moving around. The frame is wrapped in 1/4″ diamond plate.
Three kegs were welded to ports for all the connections. From left to right the three kegs are the HLT, mash tun and boil kettle. The kegs where in pretty rough shape so they have been painted and coated with high temp engine paint.
Underneath the HLT and boil kettle are 10″ propane Banjo burners that were hard piped into a center propane port and controlled by there own manual valves. I also used two standard push button igniters.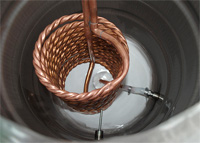 To transfer liquid and wort there are two Chugger brand march pumps that are wired into separate electrical switches, and onto a heavy duty extension cord and grounded to the frame.
The HLT has a calibrated sight tube and I use a draw tube made of copper that is profiled to draw from the dead center of the bottom. Inside the HLT is a 5/8″ convulated copper heat exchanger, used to recirculate the mash runnings to maintain the mash temps.
The mash tun is in the middle and is held in place by two studs that are welded to the sides and fit into sleeves that allow me to tilt and dump the mash tun. I use a stainless steel PICO-style false bottom and a copper draw tube that is also profiled to pull from the center. There is a side port with a quick disconnect that is used for both recirculation and my fly sparge arm.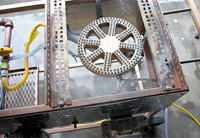 The boil kettle has a calibrated sight glass and I used a copper draw tube profiled to pull from the side of the tank. I use a standard home water filter that is hard piped to a quick water hose disconnect to hook up to my garden hose for my water supply.
All fittings are stainless and I used quick disconnects on all ports and pump heads. I also used high temp hosing to transfer all liquids.
I used a 40 plate chiller for wort cooling but it can also transfer back into the HLT and heat exchanger using cold water in the tank. All of the waste water from cooling is put back into the system for cleaning when I am done.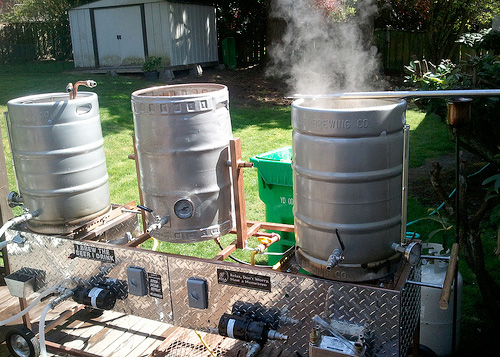 ---
If you've got a pimped out system of your own share it in on the AHA Forum under the Pimp My System category. Don't be bashful; show off your creativity! Who knows, you could be the next star of Pimp my System…
The AHA Forum is communications central for the homebrewing community. Draw upon the collective knowledge of homebrewers around the world to get your questions answered. Help out your fellow homebrewers with their questions.