A great friend got me homebrewing in 2002 — straight into the world of all-grain. In the early stages of my brewing evolution, we employed a Cajun cooker, one pot, a big cooler, and a trusty saucepan. I quickly learned that you could make great beer with even the most rudimentary systems. We were always tweaking the system to make it better, eventually introducing another burner, a pump, and three converted Sanke kegs. A move forced us to split up the equipment, leaving us each with a partial system. After seeing Lonnie McAllister's Brutus 10 in action, I knew I had to take my next system to that level. Thus was born my new brew system project, a Brutus 10 style rig.
Overview
The rig is a single-tier design with two March 809 pumps, three BG14 banjo burners, three weld-converted Sanke kegs, and temperature automation for the hot liquor tank (HLT) and Mash. I decided on the following changes to the original Brutus 10:
Safety-switched burner valves with integrated pilot lights.
Ability to store the keggles inside the stand when not in use.
Nothing extending outside of the rectangular stand frame (plumbing, control arm, etc) when not in use.
All low pressure propane.
Adjustable height for all burners.
Hand-off-auto style switches for burner controls.
Detachable control panel so I can bring it in the house when not in use.
Here is the complete brewing system ready for use: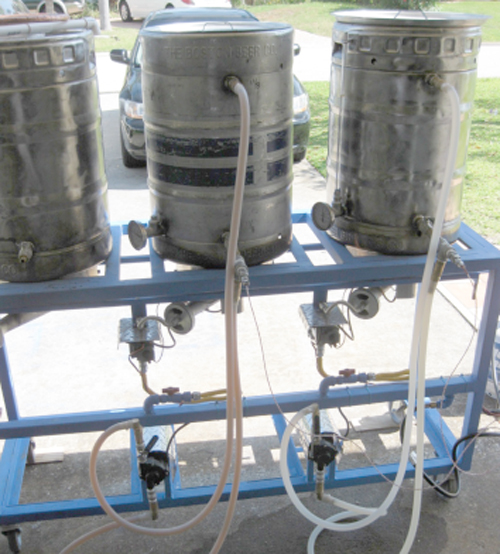 Frame
Instead of incurring the cost of stainless steel tubing, the frame is constructed with mild steel painted with flameproof 2000° F header paint. The paint was carefully cured in place using the heat of the burners and is holding up exceptionally. The frame includes a built-in propane manifold, height-adjustable burner rack, slotted pump brackets, and 5″ double-lock rubber casters.
Here we can see the burner height adjustment: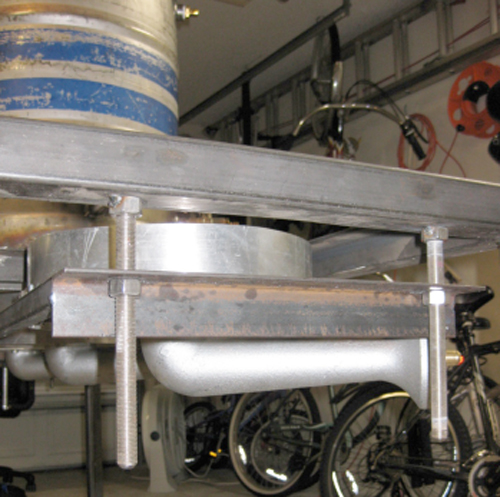 Burners
The three BG14 burners are mounted directly to the height-adjustable burner frame. This frame also has mounting brackets for the two Honeywell VR8200A2132 furnace valves. The valves are protected with diamond plate drip covers. These valves each have three rigid connections to the burner: a pilot line, thermocouple, and main gas line. This allows the entire burner and valve assembly to adjust up and down without straining any rigid or semi-rigid connections. The two valves and boiler burner are then flexibly connected to three valves on the propane manifold. The entire manifold is fed by a single low-pressure propane regulator.
Here is the valve connections followed by the burner connections:

Electrical
The control panel is powered by a computer-style cord into a 110V power input module. There are two connections for 110V to the pumps, two input connectors from the RTDs, and two output connections for 24V to the Honeywell valves. The solenoid valves can be manually controlled or automatically controlled by the Auber SYL-2362 PIDs. The control panel and arm are both fully detachable.
Here we can see the front and back view of the control panel:

Plumbing
All connections are brass quick disconnects using liquid coolant fittings from McMaster-Carr (6739k68, 6739k59, 6739K64) and silicone tubing. I used Lonnie's fantastic "temperature tee" idea for my RTDs. The two March 809 HS pumps are mounted vertically on custom slotted brackets allowing them to slide forward when in use, and slide back when stowed. Again, making sure that nothing protrudes outside of the frame when stored.
The hose fittings: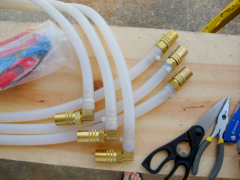 The pump in and pump out: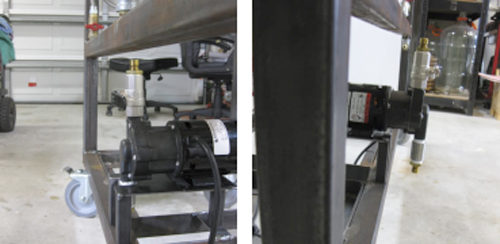 Many Thanks
This build reflects the current state of my evolution through the world of homebrewing. Whether learning how to sparge with a saucepan, or dialing-in a step mash on a temperature controller, I'm always inspired by the ingenuity of the homebrewers that have taught me through the years. I would like to thank Lonnie McAllister for starting the Brutus 10 revolution and inspiring me to build this fantastic rig. I'd also like to thank the entire homebrew community for openly sharing their ideas and pushing the boundaries of beer making at every level. Most of all, I would like to thank my great friend Rob who brought me into this wonderful hobby so many years ago, surfacing a passion in me to seek and create better beer.
Josh