Oscar is a relatively new homebrewer that got sucked in even quicker than usual. After a few brews with extract and specialty grains he decided to dive right in and go to all grain. Luckily for him he had the perfect place to work on his new obsession, er, hobby. He has a sweet shed that is really more of a super-deluxe man cave that any brewer would be jealous of. Read on and learn all about Oscar's pimpin' system.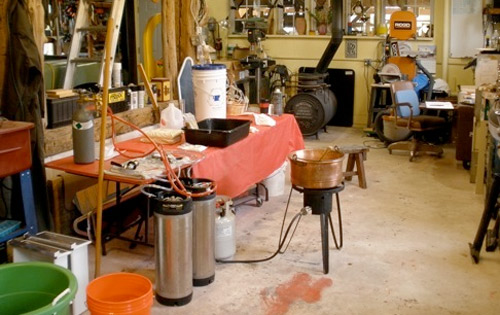 One of Oscar's first extract brews. Keggies leak testing on the bench.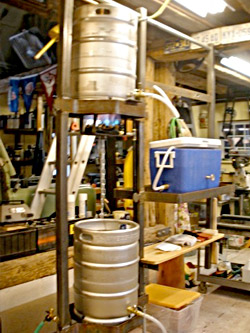 It may, or may not, be a coincidence that his local home brew supply is located next to the local Brew Pub. Regardless, every time Oscar went out for dinner he walked by the place. One day he walked in and went home with "the" issue of Zymurgy: the one that explains it all in five easy chapters. Oscar is a "figure it out first" kinda guy and ordered Charlie Papazian's Complete Joy of Homebrewing next, and then for good measure John Palmers How to Brew and read them both. Then he joined the AHA and became a very active member of the forum.
Oscar quickly realized that bottling was a royal rectal discomfort and bought a $50 fridge on Craigslist and taps and cornies before ever brewing a drop. He then continued dropping money into his new obsession and bought his first kit, an extract kit with specialty grains. In fact, he bought two and kegged them. He was thrilled to find they tasted pretty awesome. But then he thought to himself, "$22 for 6 pounds of wonder powder is OK, but all grain was where it is at." So off he went to his favorite scrap yard and got a hundred pounds of steel and went to town on it, cutting and welding like a madman. Oscar obtained a couple of very nice kegs, to which he added sight glasses. Mail orders bought
hardware for drains, thermometers, and such necessary equipment. An under-utilized gas fire place provided a 100 pound gas bottle, and 40 feet of gas pipe connected it to the brewing setup. The grinder quickly got the business done on the barrels, and some copper pipe and soldering completed the water supply. He recently brewed his "pilot" all grain batch. The recipe was his "house" APA extract recipe adapted for AG brewing. His OG came out right in the ballpark and he got a nice, active fermentation within twelve hours.
As for "the system" itself, it's a simple three tier gravity system. The much loved, and hated, stir fry burners (what's not to like at $25 each) heat the HLT and brew keggle. A 48 qt cooler completes the ensemble. When not in use the keg shells hang on a pipe from the ceiling and it can be swung up and out of the way. Oscar now has the capability (and so obligation) to brew 10 gallon batches. The Wooden Shoe Brewery resides in a 32′ x 28′ structure with a partial second floor and covered car-port along the side. The floor is heated and typically keeps the brewery at around 45 degrees.
With all this so soon, it's hard to imagine what the future holds for Oscar and the Wooden Shoe Brew Works (picture below: not a commercial operation…yet). We hope that you have many successful brews on this amazing system, thanks for sharing!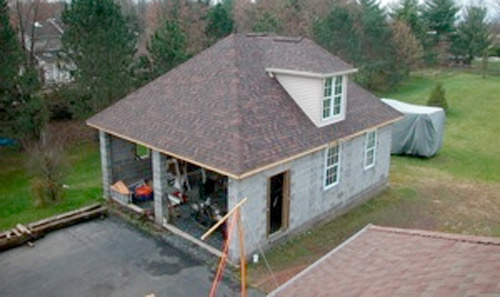 ---
If you've got a pimped out system of your own share it in on the AHA Forum under the Pimp My System category. Don't be bashful; show off your creativity!  Who knows, you could be the next star of Pimp my System…
The AHA Forum is communications central for the homebrewing community. Draw upon the collective knowledge of homebrewers around the world to get your questions answered. Help out your fellow homebrewers with their questions.
Homebrewers Association
Homebrewers Association