Many Homebrewers enjoy DIY projects, especially Patrick Smith. Much like restoring vintage cars and motorcycles, restoring a vintage refrigerator is just as fun, and far less time consuming! Patrick decided to stick to his passion of homebrewing and restore a craigslist refrigerator into a burgundy beauty, with the help of a few coats of paint and some sand paper. Check out patrick's pimped out system!

Home brewing became a passion of mine back in 2009. My first batch was a Fat Tire clone, let me just say, after that I was hooked. When I wasn't brewing, I was glued to my laptop, lurking the brewing forums. I read everything I could on recipes, equipment and troubleshooting. Those forums were priceless in my homebrewing education. Unfortunately it didn't take me long to stumble on to the DIY build pages. I spent hours and hours drooling over polished keg AG setups and homemade kegerators and keezers. All I wanted to do was start building my own. I went back and forth between a keezer and a kegerator and was just about to lay down money for a small chest freezer, when I saw a craigslist ad. All it said was "Vintage Refrigerator for sale." As soon as I found out it still worked, I told them I'd take it.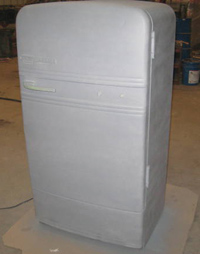 I got a little prep and paint advice from a cousin who restores cars and hit up the local auto parts store for what I would need. I picked up a little wet sandpaper, scrub pad, some good painters tape, primer and some clear coat, and went to work.
Luckily, I already had the paint I wanted to use. It was a high quality automotive paint that we had sitting around in the shop for a project that never got started. It was a beautiful dark burgundy. After I cleaned the fridge and sanded it down, I hit it with a couple of coats of primer. Then I started taping off where I wanted my lines and applied the color coat. It looked beautiful when I started spraying on the burgundy. Once it finally dried, don't try to paint something in an uninsulated shop in the middle of winter, I had to reverse everything I taped off for the black coat. I was really happy with the way it turned and couldn't wait to get it in the house and serving beer.
There is a lot of fun and pride that comes from a project like this and I encourage anyone with the desire to go for it. It's okay if it doesn't come out perfect. You are the only one that is going to notice the little flaws. Besides, that just gives you more experience for the next one! I have since sold my kegerator to my brother (Yes, I still get to see it, and yes, I still get to use it.) and am planning my next build: a bar top style keezer that incorporates a few antique shop finds; two brass beer and soda fountain taps. When you see these ancient beauties, the word epic comes to mind! Cheers!