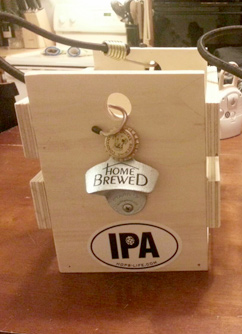 Inspiration
I got into homebrewing last year, and have been consumed with it ever since. It's a fun hobby that I can't get enough of. After brewing for a few months, I joined Joliet Brewers Guild and noticed that people brought their homebrews to the meetings in various ways from coolers, to commercial six-pack holders and even a few custom made carriers as well.
Between the meetings and seeing various DIY projects of the same nature, I thought it would be really easy and fun to make six-pack holders of my own. I wanted a way to transport my homebrews other than just an old cardboard holder I had laying around. I wanted something that spoke to craft beers, homebrewing and my passion for both. I was aiming to keep the cost reasonable, but still have fun with it.
Construction
It didn't require a lot of woodworking skills or anything advanced, just a simple table saw, sandpaper, wood glue and nails. It started with measuring some current six-packs from my favorite beers. I used Lagunitas and Sierra Nevada as the basis since their bottles are a little wider than the standard longnecks. I purchased a 2X2 sanded piece of plywood from my local big box hardware store that I cut into the following pieces:
(6) 6" X 8" pieces for the ends of the holders as well as the bottoms
(8) 2" X 8" pieces for the sides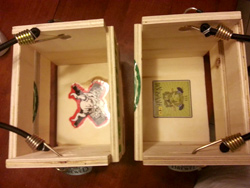 I wanted to build holders that could carry various size bottles, from 12 ounces to 22 ounces. Constructing them was pretty simple, after sanding down all the surfaces I used a little wood glue between the edges and some 2" braid nails to hold them together. I decided to use 18" bungee cords as my handles instead of rope or another piece of wood. I thought it gave it a more rugged unique look. I tested the holders with full bottles to make sure the cord wouldn't bungee or give too much and it worked out great.
I now had two of my own personal six-packs, but I couldn't stop there. They needed to speak of craft beer and homebrewing, so I gathered up some decals I had from a beer fest along with others that I had purchased online and decorated both holders. It wasn't quite done yet, as it needed the homebrew touch and what good is having your homebrew if you don't have an opener?
I found the mounted bottle openers on Amazon and was able to find some that read "Home Brewed," it was the final piece. I screwed those onto the sides and was all done. My own personal six-pack holders complete with bottle openers and decals of my favorites breweries.
It was a really fun little thing to build, it only took an hour or two and the cost in the end was about $15-16 per holder with the bulk of that coming from the openers. For a total of about $30, my homebrews now travel in style!
Materials
(1) 2'X2′ sanded plywood: $5
(2) 18" bungee cords: $1.50 each
(2) "Home Brewed" mounted bottle openers: $7.50 each
Various decals from eBay or beer fests: $8-10
Now when I go to club meetings or friends' houses, not only do I have great homebrews to share, I also have a nice unique holder to show them off!
Homebrewers Association
Homebrewers Association