AHA-member Clay Grogan began brewing extract batches back in the '90s, but went on hiatus until his wife suggested he dust off the old equipment and give the hobby another shot in 2010. It only took a few batches to remind Clay what he had been missing. After joining the James River Homebrewers (JRHB), a turning point in Clay's brewing career, he moved to all grain and began envisioning his ideal homebrew rig. After studying plans and reading forum posts on similar designs, Clay had an idea of where to begin. Here is what he has to say on the process:
For my brew rig I settled on a single tier design based loosely on the Brutus 10 by Lonnie Mac. I had several design goals when I set out to start the build.
Fully automated (duh…)
Self-contained for easy storage
Fairly maneuverable
Small enough to fit in my truck, because I like to participate in group brews ("Cluster Brews" as the JRHB refer to them)
 Adjustable burners
I found a lot of inspiration from HomeBrewTalk.com I found one rig that was exactly what I was looking for when it came to storage. This was the starting point. From there I modified the design to accomplish my other design goals.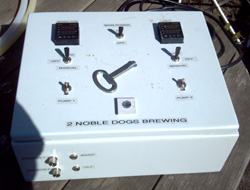 The automation was accomplished using a panel box that housed the components that controlled the pumps and burners. The components of the box send signals back and forth to your furnace valves on the gas system, which in turn open and close to fire the burners. This keeps the strike water and mash at the desired temperature.
Pumps are used to re-circulate wort and water. This keeps you from scorching the wort and keeps the water at a constant temperature throughout the vessel.
My frame is primarily constructed out of 1 ½" square steel tubing a got from a welder friend of mine. The steel I used is "mild" steel. It is relatively inexpensive and easy to weld. It's also fairly easy to find. I always wanted to learn how to weld, so I bought a cheap welder and began making sparks. As it turns out, if you are not that worried about the look of the welds then welding is not too difficult. Making the welds look good is difficult and you learn that an angle grinder can be very useful.
The design allows me to store all my keggles underneath when not in use. It also has pneumatic wheels on one end so it can be maneuvered like a wheel barrow from the storage shed across the yard to the driveway where I brew. It need to be "all terrain" so the typical caster design would not work. I added two removable handles that slide down into the frame. These act in a similar fashion as do wheel barrow handles. One of these handles also doubles as the mounting arm for the control panel.
The burners are mounted on a separate rack constructed of 1/2" angle iron. I added two handles (bolt on) that protrude up through the main frame. The burner frame is suspended from the main frame using steel "J" hooks. This allows me to easily lift, unhook and lower the burner frame without the help of another person or any tools. This gives me the flexibility to fine tune the height of the burners for maximum effectiveness.
If you are a DIYer, a project like this is very rewarding and you will end up spending much less than a similar commercially built system (and it's quite the conversation piece). When it was all said and done, I had spent about $1,500. Once my wife found out that little nugget of information she dubbed my new creation "The Doghouse." My friends laugh about it. I never really understood the correlation…
If you are interested in learning more about this and my other homebrewing projects, visit 2nobledogsbrewing.com.
Homebrewers Association
Homebrewers Association