I have been home brewing for well over 12 years, the local AHA contact and was even featured in a local newspaper for homebrewing. I've found the best place to find the materials for your homebrew system is your local scrap yard's stainless area. I purchased my 25 gallon Groen steam jacketed kettle at a scrap yard complete with Tri Clover brand Pump and lid for $250. The scrapper said he pulled it from a WSU kitchen and it was used to make soup. I know, what a steal! I stripped it down, pulled the pump off and mounted the pump to a lawn edger frame.
Fortunately, we have a local company that builds food processing equipment and can get some of those goodies from the scrap yard like stainless punch plate, screen—all the cool stuff—so I built a false bottom out of stainless screen for the mash. The pump has been a very awesome addition to the system. I had some large 1.5″ tri clover fittings welded to the bung areas on a pony keg, that I cut the top out of. This made the best hop back/grant you could ask for. I mounted it to the pump with a high temp flex hose. When not using for regular pumping, I turn the top fitting around and can clamp right onto the counter flow chiller with a sanitary tri clover on it and start knocking down and injecting with oxygen..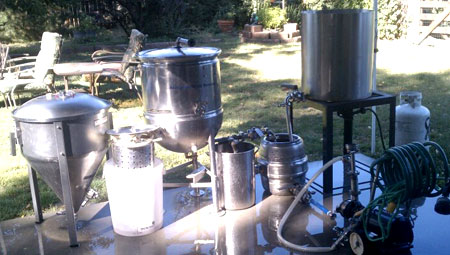 I have a 30 gallon stainless kettle that was purchased for $20 at a scrap yard, it sits on a frame I built from rebar and 2″ angle iron then placed 2″ fire brick between it and the wall. My fittings came from 150 pounds of assorted tri clover fittings, gaskets, clamps, all kinds of of other weld-on fittings off of E-Bay for $400 an easy $2,000 worth of materials.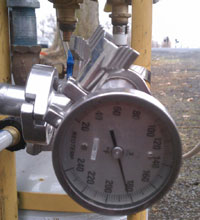 The most kick ass feature is the hot water on demand system mounted to a hand truck that runs on propane and 110v AC battery. I can get water at temperatures up to 180° all day long! No waiting around to make hot water, no running out of sparge water, time to clean up, no problem! Want to sanitize, no problem! Forget about it!  It is truly an asset to the brewhouse.
Donated "to the cause" by our friend Mark Brown, he loves homebrew, Thanks Mark!
The fermenter was the most expensive item I have, I paid full price for my 27 gallon fermenator, around $700. It's a very nice, no worries tank. Oh, and the three sanitary valves belong to Rob and Spike, they are responsible for getting me started in the first place. So it really helps if you can pull resources from fellow brewers on a system big enough to benefit the cause, it keeps costs down.
The pictures I have are set up in my walk-in cooler/brew house that I picked up for free! Just the box no compressor, this guys wife wanted it out of the driveway and I was right place right time.
I don't drink all the beer myself, but I do try on occasion. I share the batches of beer with my fellow brewer Tyson Crudup. He and I have been brewing together for most of our brewing lives, and as time went on, everybody kept coming over and drinking our beer and encouraging us to start a brewery. So Tyson went on to find some partners and started Walla Walla Brewers. We had a 7 BBL system, the beer was in all the bars, spreading across the state, we were going to festivals, but due to a problem in the partnerships (or lack of) Walla Walla Brewers was disassembled.
We are back to homebrewing again, still with professional-style equipment and keeping the pro brewer attitude in the house of home brew: "Gotta have the good stuff." It has taken me several years to build up my system, upgrading as I found better equipment. Keeping a sharp eye out and having the passion for brewing beer was key for me.
It takes a bunch of beer to make wine and Walla Walla is sporting over 150 wineries, so if anybody wants to fire up a brewery in Walla Walla, you have two experienced brewers ready to go.