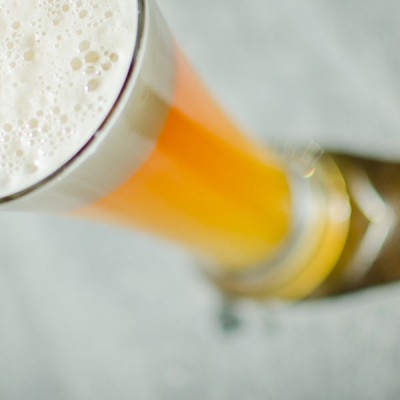 Combining the smooth taste of a wheat-based beer with the prominent hop characteristics of an American IPA, "white IPA" is a newly emerging franken-style of beer that seems to be growing in popularity.
This recipe, featured in the July/August 2012 issue of Zymurgy magazine, is for a clone of Deschutes Brewery Chainbreaker IPA. Here is what Deschutes co-brewmaster Brian Fairve had to say about the recipe:
"Our white IPA malt bills are composed of Pilsner malt, pale wheat malt, and unmalted wheat. We occasionally use flaked oats to add a bit of smooth, creamy mouthfeel. We have also been experimenting with dextrose as an additional carbohydrate source in these beers to increase the ABV and dry them out slightly.

Our hop bill is fairly simplistic—we use Bravo in our first addition for bittering. We don't really see a point in mid to late kettle hopping for this beer. We really want it to have a nice bitterness with an amazing hop aroma, so we choose to hold off any additional hopping until it enters our hopback. We make up for the lack of hop additions in the kettle by overloading our wort stream with copious amounts of hopback hops."
AHA members can access this issue of Zymurgy instantly using eZymurgy and the Zymurgy mobile apps!
Read More