By the San Diego Local Committee
If San Francisco is the birthplace of the American craft beer movement, then San Diego is the prodigal son. The most difficult decision you make here is what beer you are going to drink. With more than 38 craft breweries in a 40-mile radius, that task can seem daunting. Mix in near-perfect weather, miles of pristine beaches, dazzling world-class family attractions, and award-winning restaurants, and you have a beer-induced utopia. What better place to host the 33rd annual National Homebrewers Conference than this vacation destination.
Welcome to San Diego, where Some Like it Hoppy!
This year's conference will take place in the heart of America's Finest City, the Town and Country Resort in Mission Valley. The proximity of this resort to the downtown bars such as the Neighborhood and Downtown Johnny Browns, the beach town brewpubs like Pizza Port, and to 30th Street makes this a perfect location. Since San Diego was voted the best beer city by Men's Journal, the 30th Street corridor is easily the "nation's best beer boulevard." There you can enjoy taps and grub from the likes of the Toronado, the Ritual, and Hamilton's. Try not to hurt yourself with their jaw-dropping bottle list or draft menu.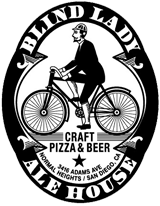 Visit Draft magazine's newest top 100 member, The Blind Lady Ale House, for some Automatic goodness. If you still haven't found what you want, you can browse a homegrown application called Taphunter, where the tap listings are updated daily.
If you want to go straight to the breweries, we understand. The breweries in San Diego include some of the past Brewery/Brewpub of the Year award winners from the Great American Beer Festival (GABF) and the World Beer Cup (WBC) like Pizza Port, The Lost Abbey/Port Brewing Company, AleSmith, and Ballast Point. The breweries are mostly located in distinct clusters throughout the county. North County boasts two Pizza Ports, Lost Abbey/Port Brewing, Green Flash, Oceanside Ale Works, Breakwater Brewing Co., Back Street Brewing, Stone Brewing and World Bistro, along with several newer breweries.
Central San Diego includes AleSmith, Hess Brewing, Karl Strauss Beer Garden, Ballast Point, Green Flash's new production facility, Oggi's, and farther east, Lightning Brewery. You can even throw in White Labs for good measure. Just north of San Diego are Pacific Beach Alehouse, Karl Strauss, La Jolla Brewing Company, and Rock Bottom La Jolla.
Moving east of downtown, another cluster includes Gordon Biersch, Firehouse Brewing, San Diego Brewing, and farthest east, Alpine Beer. Think of it as Beer Land and you've just been handed an E-ticket. From the Belgian-influenced creations at the Lost Abbey to the lagers of Karl Strauss, there is a beer style for everyone.
Pre-conference events will give you the opportunity to take an up-close-and-personal tour of some of these breweries. While you're there, grab a few bottles, collect some glassware, and ask plenty of questions. Maps made by Pubquest are specific to San Diego and will help you navigate the beer scene.
Pre-Conference Events
There's nothing better than summer in San Diego, and there will be plenty of options before the conference begins: eight brewery tours, a ridiculous pub crawl, a beer-pairing breakfast, a beer-pairing dinner, a San Diego Bay beer cruise, a week of golf deals across the street from the hotel, and a bunch of "beer widow" events for the non-beer types. Most of the events have limited seating, so go to the conference website and reserve your space now.
June 13-19
Golf at Riverwalk
Enjoy a round of golf at the Riverwalk Golf Club, a short walk from the hotel. The club is offering a special rate for the week for conference attendees. Reserve your tee time anytime on Monday through Friday, or after 10 a.m. on Saturday and Sunday. Details are on the website.
June 14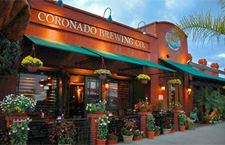 10 a.m.-3 p.m. Brewery Tour "A": Ballast Point, San Diego Brewing Co., Coronado Brewing Co.
Brewery Tour "A" will visit Ballast Point's main brewery in the Scripps Ranch area first. Ballast Point has brewed many award-winning beers, and is a mainstay in the San Diego craft brewing scene. The next stop will be at San Diego Brewing Co.: head brewer Dean Rouleau is responsible for the World Beer Cup gold medal-winning double IPA called Hopnotic. Food will be served at this stop. The final brewery on this tour will be Coronado Brewing in the historic village of Coronado, including a trip over the beautiful Coronado Bridge. Like all other tours, the tour includes transportation, brewery tours, beer samples, and food. Souvenirs and bottled beer to take home will be available at all breweries.
11 a.m.-2 p.m. Stone Brewing Tour "1"
Stone Tour "1" will visit the Stone World Bistro and Brewery. The 45-minute tour finishes with samples at the souvenir shop bar, followed by food in the bistro. You then have time to sample other beers and tour the one-acre beer garden on your own until the bus returns you to the hotel.
2-6 p.m. Brewery Tour "B": Lightning Brewery, Green Flash, Rock Bottom La Jolla
Brewery Tour "B" will first be visiting Lightning Brewery in Poway. Lightning is one of the few craft breweries in San Diego that makes lagers on a regular basis. Green Flash, the second stop, is honored to have been chosen as one of the craft beers to be served at the World Series, and head brewer Chuck Silva's take on various beer styles, especially hoppy West Coast versions, have won numerous awards. The final brewery on this tour will be Rock Bottom brewpub in the village of La Jolla near the University of California.
3-6 p.m. Stone Brewing Tour "2"
The second brewery tour visiting the Stone World Bistro and Brewery.
5-11:59 p.m. O'Brien's Pub-Best of San Diego Beers
Join proprietor and beer renaissance man Tom Nickel with at least two beers apiece from Alpine, AleSmith, Ballast Point, Green Flash, Lost Abbey, Pizza Port, and Stone along with a bonus keg or two from Russian River.
June 15
8:45-11:15 a.m. Beer Pairing Breakfast
The breakfast features selections designed specifically for this event by Chef Axel Dirolf, the main instructor at the International Culinary School. Several courses are prepared by culinary students, and will include beer in the cuisine. Each course will be paired with a craft beer from an award-winning San Diego brewery to complement the selection. Transportation is available.
10 a.m.-3 p.m. Brewery Tour "C": Lost Abbey/Port Brewing, Pizza Port Carlsbad, Karl Strauss
This tour is sold out.
11 a.m.-11:30 p.m. 30th Street Pub Crawl
Buses will be running hourly from/to the hotel. Stops include the famed 30th Street district and Adams Avenue. Eighteen great pubs are accessible, including Small Bar, Blind Lady Ale House, Toronado, The Linkery, Ritual Tavern, and Hamilton's. Conference wristbands provide you with special treatment at all locations. Plan on special beers brewed for the conference being on tap at establishments along 30th Street.
11 a.m.-2 p.m. Stone Brewing Tour "3"
Third tour visiting the Stone World Bistro and Brewery.
12:15-4:45 p.m. Hornblower Afternoon Beer Cruise
Enjoy an afternoon cruise on beautiful San Diego Bay on a fabulous Hornblower yacht. A selection of local San Diego craft beers complements the accompanying hors d'oeuvres and snacks chosen specifically for this event. The cruise is all-inclusive, and includes roundtrip transportation from the hotel.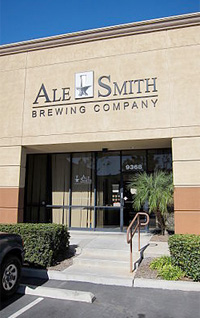 1-6 p.m. Brewery Tour "D" AleSmith, Hess Brewing, Pizza Port Ocean Beach
Brewery Tour "D" will visit AleSmith Brewing first. AleSmith has brewed many award-winning beers, including the legendary Speedway Stout, and is a pioneer in the San Diego craft brewing scene. The next stop will be at Hess Brewing, one of San Diego's newest breweries (a nanobrewery that homebrewers will be able to relate to: small-scale brewing). The final brewery will be Pizza Port Ocean Beach, the newest addition to the Pizza Port brewpubs.
3-6 p.m. Stone Brewing Tour "4"
Fourth tour visiting the Stone World Bistro and Brewery.
5:45-8:15 p.m. Beer Pairing Dinner
The Beer Pairing Dinner will feature selections designed specifically for this event by Chef Axel Dirolf, the main instructor at the International Culinary School. Several courses are prepared by culinary students, and will include beer in the cuisine. Each course will be paired with a craft beer from an award-winning San Diego brewery to complement the selection. The dinner will take place at the Culinary School's gourmet restaurant.
Beer Widow Events
For those supportive "beer widows" who accompany die-hard brewers on their annual migration to the National Homebrewers Conference, there are some wonderful diversionary events planned for you, including a vineyard tour and wine tasting, a trip to the Hotel Del Coronado, and a spa day. Visit the website for more information.
Conference Events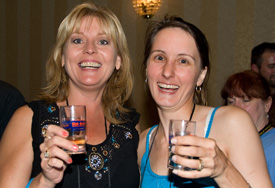 Pro Brewers Night on June 16 has more than 40 breweries from the West Coast and across the country scheduled to pour their beers. We are also holding the first Pro Brewers Night Pro-Am competition. Come meet our rock stars! Twenty-five craft brewers are teaming up with homebrewers to produce special beers that will be poured at the conference and judged by popular vote.
On tap June 17 is a blowout Club Night, already the largest ever hosted by the AHA, with more than 50 clubs scheduled. Themed booths, unlimited kegs of homebrew, and snacks await those bold enough to venture into a no-holds-barred homebrewing scene.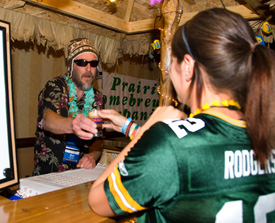 The speakers this year include some of the movers and shakers in our favorite industry. Russian River's Vinnie Cilurzo will be the keynote speaker. Vinnie is famous for huge, hoppy IPAs, like Pliny the Elder, but you may not know about his strong connections to San Diego. Vinnie's first brewery, Blind Pig Brewing, was in nearby Temecula, Calif. in the 1990s. Many credit Blind Pig with the "invention" of what is now known as the West Coast IPA style.
In addition to the keynote, attendees will hear from a diverse group of speakers drawn from the craft brewing and homebrewing communities. Topics covered will include mead, food pairing, and even non-brewing fermentation hobbies like cheese-making. Want to go pro? Listen in on the panel discussions from those who've made the leap. Want to start a club? That's covered too, with a panel on the challenges of managing a homebrew club.
This year, we've also organized a Poster Session format for homebrewers. If you're looking for some one-on-one time to speak to the masses, this is it. Show them your latest gadget, coolest experiment, or brew made with a yeast strain from the Pleistocene era.
Of course, the National Homebrew Competition final round will be judged at the conference, and the winners will be announced at the Grand Banquet on June 18. Don't miss another fabulous meal prepared by Homebrew Chef extraordinaire, Sean Paxton.
Rounding out the conference will be a hospitality suite/vendor pavilion where you can check out the latest gadgets, equipment, and supplies from all your favorite companies. Clubs will be pouring from a bar inside the hospitality suite during the day, and new this year will be an evening outdoor bar in the Tiki Pavilion with 40 taps! Can your club fill the banks with kegs while your buddies hang out by the patio and fountain, basking in the San Diego twilight?
Local Attractions
San Diego isn't just about the beer, though. The city of San Diego hosts world-class venues that the family can enjoy. Options include Balboa Park, Sea World, and LegoLand.
In Balboa Park, the world-famous San Diego Zoo is open daily, and just recently unveiled a new elephant exhibit. If you prefer sea life, check out Sea World in Mission Bay. Turtle reef, the latest edition, opens up this summer. If you're traveling with small children, LegoLand in North County is a choice destination. With 10 different themed areas including a water park, there will be plenty to keep your kids occupied while you dream about that next pint. To get more information about San Diego, visit www.sandiego.org.
Raise a Glass to Jim Howard
The local committee has been working for the past year to organize everything it takes to make an event like this great. Committee members have been drawn from clubs across the Southern California region, making this bigger than just a San Diego event. It's taken a lot of work, but we've had a group of very enthusiastic, hard-working folks keeping things on track.
Tragically, we lost our good friend and transportation committee chairman, Jim Howard, who passed away suddenly on Christmas morning. The local clubs are planning tributes to Jim during the conference including having beers brewed from Jim's recipes on tap at the hospitality suites at all times. So after riding in style from the hotel to an awesome brewery tour or pub crawl, remember to lift a glass to Jim's memory.
Local organizing committee members Loren Miraglia, Earl Itrich, Jonathan Shufelt, and Cole Davisson contributed to this article. Thanks for their hard work in helping to organize the 33rd Annual National Homebrewers Conference.
---
 Cherry Chocolate Stout
This is the third commemorative beer being brewed for the conference (the first two recipes appeared in the May/June issue of Zymurgy). Homebrewer Jason Fields won the competition held in conjunction with the Stone AHA Rally in March with his Cherry Chocolate Stout, which was then brewed by Stone for conference attendees. This is Fields' original recipe. Stone head brewer Mitch Steele said, "Our goal is to make the beer to taste exactly like Jason's, which is phenomenal."
Ingredients for 5 U.S. gallons (19 liters)
10.0 lb (4.5 kg) Two-Row
3.0 lb (1.4 kg) Crystal 40L
2.0 lb (907 g) Chocolate Malt
1.0 lb (454 g) Black Patent Malt
5.0 oz (142 g) Ghirardelli Bakers Chocolate (mash)
1.2 oz (34 g) Warrior hops (15.4% AA, whole) 60 min
5.0 oz (142 g) Ghirardelli Bakers Chocolate 10 min
0.75 lb (340 g) lactose @ knockout
2 vanilla beans (secondary)
5.0 lb (2.3 kg) dark cherries (secondary)
WLP002 yeast
Original Gravity: 1.079 (70% efficiency)
Final Gravity: 1.023
IBU: 45
Directions
Mash grains at 158 °F (70 °C) for 45 minutes with half the chocolate. Batch sparge: drain wort after mashing, refill mash tun with sparge water, drain again. Boil for 60 minutes, adding hops, rest of chocolate, and lactose per recipe.
Pitch yeast and ferment at 68 °F (20 °C). Primary ferment for 7 days. Add vanilla beans and cherries to the secondary, ferment for 7 days. Rack and package.
Extract version: Substitute 6.5 lbs (2.9 kg) light liquid malt extract for the two-row malt. Steep remaining grains and first batch of chocolate in 158 °F (70 °C) water for 30 minutes, strain, add malt extract, bring to a boil, and proceed with the recipe as indicated.
Homebrewers Association
Homebrewers Association