By Diana Davis
No, please, you shouldn't have.
My husband, Cullen, is a gifted beer geek. He drinks it, brews it and judges it, both at competitions and just for the heck of it. He gets together with his friends just to talk about it. Beer is a major theme in his life, and apparently, by some undisclosed law of wedlock, mine. Not that I'm complaining much, mind you. It's nice to know that both the blondes in his life come out of a bottle, and one of them is me. Now you'd think people in need of a gift for him would just buy beer. This would make him very happy.
It's not as if he hasn't already bought enough for himself and stocked every available storage space we've got with bottles of imported, microbrewed or obscure fermented liquids. Still, he always appreciates more of any variety, his favorite being the type he doesn't have to pay for.
Really, this is perfectly fine with me. No matter how many bottles accumulate in our closets, fridge, cubbies, behind the bar, above the bar, on top of the bar and under the bed, I can always hang onto the belief that it will someday be drunk, just like everyone seems to be when they leave our house. Beer, unlike a diamond, is not forever. So long as I get to at least sample most of it, you won't hear much out of me.
Were my husband's friends and family to celebrate every gift-giving occasion with beer, I would be fine. But I'm not fine, because somehow the idea has spread, amoeba-like, through all of his acquaintances and relatives that a bottle of beer just isn't enough. Oh no, they have now focused their purchasing power on memorabilia. Any reason anyone can find to supply us with a beer-themed gift is the right one for them.
Glasses and T-Shirts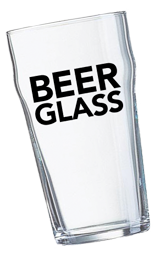 It started with glasses. This makes sense. Many beers start with glasses. You go to a microbrewery and quite often pint glasses or taster-sized glasses are free with a tour or sampler. We have glasses of all shapes and sizes from everywhere around the world. My cupboards runneth over. If I set my mind to it, I could drink my federally suggested 8-10 glasses of water, or some similar liquid, every day for a year and never have to wash a glass.
Next came T-shirts. I believe his parents started that one. My husband's family travels frequently. He does not. They feel bad about this. Think of all that beer he's missing!  Trust me, he is, and it can make him more than a little depressed. I was not aware that the cure for this was a large cotton men's tee, silk-screened with whatever bar he happens to have missed. Apparently he's missed a lot of them. He has shirts from breweries, brewpubs and bars in countries I never knew existed. I've tried hinting that friends and family should travel to places like, say, Salt Lake City, Afghanistan and Pakistan, but no one seems to have listened.
Think of the savings in our water bill! While I'm taking care of my hydration needs with never-ending pint glasses, he can be comfortably clothed for half a decade whilst ignoring the laundry. Well, his upper-half, anyhow. I imagine he might want to do something about pants. He also might have a little explaining to do at the office. Then again, they are also guilty of feeding the T-shirt beast, so they should really know better. Even my parents have gotten into the act. Dad bravely and boldly goes into whatever brewpub he comes across, bless him. Imagine the sacrifice that poor man makes to keep his son-in-law happy.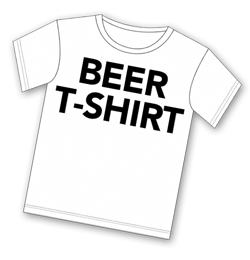 T-shirts as a gift for my husband have gone slightly out of style. Perhaps the givers have noticed that my eye twitches and I whimper whenever I see him open that festively wrapped package to reveal yet another shirt. Maybe, just maybe, they watched as I folded and put away a batch of beer shirts. When I say, "put away," I mean "opened the drawers and crammed them in before the others could fly out like one of those spring snakes in the fake peanut cans." I think it might have been the dinner party I gave—it did sort of have a "theme." Surely someone noticed the tablecloth, placemats, napkins and several courses were made from beer T-shirts. Clothing as a gift is not "hip" in this economy. It can cost a bit, and take up space in suitcases and carry-ons.
Bottle Openers
The new fad in gifts for my husband is both small and affordable. I can imagine everyone who purchases one feels satisfied in that they've found the perfect item, because in their minds, they've bought him something he can actually use! But really, how many bottle openers does one person need? So far as I've noticed, he only has two arms. We have bottle openers in every shape and size, from every corner of the globe. His co-worker went on a trip to Europe, and came back with an opener from Germany. His parents just came back from Reno and gave him an amusing bottle opener shaped like, imagine this, a bottle! Such whimsy!  It has little festive floaty things in it that move jauntily as you engage it in bottle opening. I guess they forgot about the clever Viking-shaped bottle opener his sister bought him several years previously. Or the maple-leaf bottle opener they got him from Canada a few years before that. Or maybe they figured he wore it out, what with all that beer we have everywhere. Perhaps they just wanted to make absolutely sure he could open bottles. After all, I have the mannequin pis cork puller—we need both our wine and beer bases covered
If I had to choose just one of our many openers to keep, and I really wish I could, it would be the one he was given from his friend Jeff on his return from a Malaysian vacation. It fits perfectly in the hand and always invites comment. I don't know why there is a market in Malaysia for life-sized penis-shaped hand-carved bottle openers, but my compliments to whomever carved it. I can only imagine the fun Jeff had declaring it in customs. We've certainly enjoyed it. Imagine pulling that out when the boss brings his wife over! I don't have to! I reserve it for only the most special of guests, or anyone who asks us if we have light beer.
In the end, I know it's the thought that counts. Although in the case of the huge sandalwood penis bottle opener, I'm not sure I want to know what was on Jeff's mind.
I'm excited to find out what people will think of next. I've tried to hint that my husband's new hobby is minting money, but it hasn't caught on, and these well-dressed gentlemen started to follow me around asking for bailouts.
I suppose I'll have to wait for the next gift-giving occasion to see.
---
Diana Davis lives in North Hollywood with her amazingly patient and calm husband, Cullen, and all his T-shirts, pint glasses, bottle openers and other "breweriana." She is the author of "So I Married a Homebrewer" in the September/October 2007 issue of Zymurgy. She teaches special education to students with mild to moderate behavioral disabilities and constantly wonders why school psychiatrists love to downplay things. Beer helps.
Homebrewers Association
Homebrewers Association