Since 1979, the American Homebrewers Association has issued the Homebrewer of the Year award to the individual who earned best of show amongst all gold-placing beer entries in the final round of the National Homebrew Competition. The 2013 Homebrewer of the Year earned the prestigious title amongst one of the largest pools of entries in the history of the competition.
Annie Johnson nearly spilt her pint when the news of her achievements reached her via text while at Oakland's Beer Revolution. The Sacramento resident placed first in the light lager category with her light American lager, Mow the Damn Lawn—the same beer that won best of show and earned her the Homebrewer of the Year title. Johnson is the first woman recipient of Homebrewer of the Year since 1983, and the first-ever African American recipient in the history of the competition.
Born To Brew
Born in Germany, Johnson was familiar with the beer and food culture that her parents became so fond of while working around the globe. "My mother was a great influence on my choice to brew beer and explore different styles," shared Johnson. "She encouraged my interest in homebrewing."
What began as an activity to do with friends while watching A's and Raiders games in 1999, Johnson quickly became enthralled with making beer as her other brewer-friends retreated to the couch, succumbing to the allure of Oakland sports. These homebrew friends eventually moved to Delaware, leaving Johnson with all the equipment needed to continue brewing beer at home in California.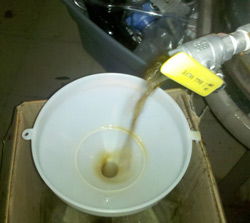 Despite not being able to brew together, Johnson and her original homebrew cohorts would trade commercial beers back and forth. "Periodically they would send me beer from Dogfish Head, which just fueled my love for craft beer," said Johnson.
Anchor Brewing, Anderson Valley Brewing Co. and Mad River Brewing Co. top her list of favorite commercial producers, but you probably wouldn't guess that she said her favorite beer was Miller High Life. "It's a camping beer! There is something about that bottle and those modified hops," Johnson responded with a smile.
Breaking the Mold
At some point in history, brewing beer became synonymous with the Caucasian male. This is peculiar as women from cultures around the world played a dominant role in beer production throughout history. For those active in the homebrewing community, it may be obvious that homebrewing is much more than a boys-only club, but the stereotype is not lost to those unfamiliar with the hobby.
Usually, people are surprised to find that Johnson is a homebrewer. "Obviously I am a female and black, so stereotypically I am associated with malt liquor, but that's never bothered me because when I begin to talk about beer with other 'beer people,' all of that fades," said Johnson. "Beer doesn't care what color you are so my innate feeling is that neither should beer brewers and drinkers.
Elevating the presence of women is important to Johnson, and in addition to press opportunities to show the achievements of women in the hobby, Johnson is adamant about increasing female participation in homebrew competitions. "Most women aren't that interested in competitions, and that needs to change if we want their presence to be noticed," said Johnson.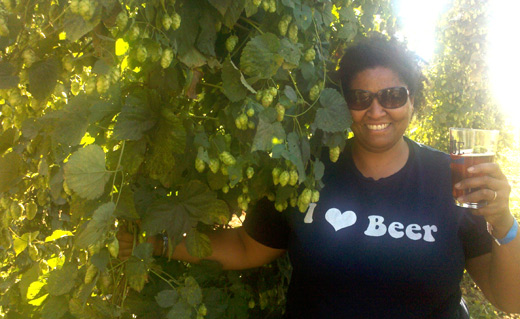 Want to learn more about Annie Johnson and access her award-winning light American lager recipe? Keep an eye out for the September/October issue of Zymurgy! Join the AHA today for print and electronic access to Zymurgy.