With a little over a year of brewing under her belt, Canadian homebrewer Chelsea Tessier came out on top in the 2018 Roxy Memorial Iron Brewer competition for her 13th Day Imperial Stout recipe. "I was on my thirteenth day of 18-hour shifts, and I was exhausted," Tessier laughed when asked about the curious name.
The competition is held annually by the Edmonton Homebrewers Guild (EHG) and is named in honor of late EHG member Roxy Hastings. Hastings was known for homebrewing "imperial" versions of just about every style, so the competition fittingly focuses on high-gravity homebrew.
Despite being new to the scene, Tessier has dived into homebrewing headfirst, racking up multiple medals in BJCP-sanctioned competitions, and even remodeling her kitchen to fit her homebrew needs. Shortly after being bitten by the pesky "homebrew bug," Tessier began modifying her kitchen to make it more conducive to brewing. First it was replacing the microwave with a hood fan. Then it was resurfacing the counter tops that became battle-scarred from brew days.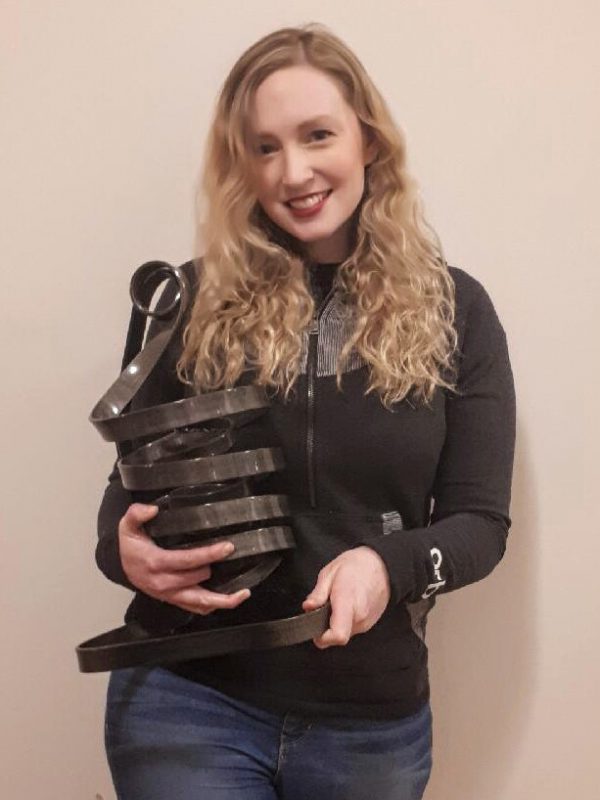 It culminated with a brand new stove, after the old one took a beating. "All in the name of brewing," Tessier shares.
By day, Tessier is a microbiologist working for an environmental company performing exotoxicology work (testing live aquatic organisms for toxicity in effluent samples). This background in science fuels a lot of Tessier's interests in mastering the art of making beer at home. "There are infinite amounts of knowledge to be learned and put into practice, so I never find myself getting disinterested in homebrewing," she shares.
Have an interesting story about a homebrewer, club, or event? Email duncan@brewersassociation.org
Ingredients
For 24 L (6.3 gal)
9.1 kg (20.1 lb.) Maris Otter
1.2 kg (2.6 lb.) roasted barley
735 g (1.6 lb.) Special B
295 g (10.4 oz.) CaraMunich
280 g (9.9 oz.) chocolate malt
230 g (8.1 oz.) light chocolate malt
78 g (2.75 oz.) Magnum 12.7% @ 60 min
58 g (2.00 oz.) EKG 5.2% @ 10 min
65 g (2.30 oz.) Styrian Goldings 1.9% @ 1 min
Wyeast American Ale 1056
Specifications
Original Gravity: 1.100
Final Gravity: 1.031
ABV: 9.2%
Efficiency: 67%
Directions
Mash at 68° C (154° F) for 60 minutes.
Note on Chelsea's process:
Chelsea does a single infusion, no-sparge mash with a brew-in-a-bag (BIAB) setup. For this recipe, she started with 32 L of water to end up with a 24 L batch. 4.3 g of baking soda was added to increase the pH of the mash since the large amount of roasted barley drives down the pH. The water in Edmonton is relatively hard, so no other adjustments were needed.
A week-old yeast cake from a previous batch of homebrew was used.
Future Variations:
Chelsea plans to brew a variation of her 13th Day Imperial Stout recipe with more aroma and bittering hops and an English variety of yeast like Whitbread.