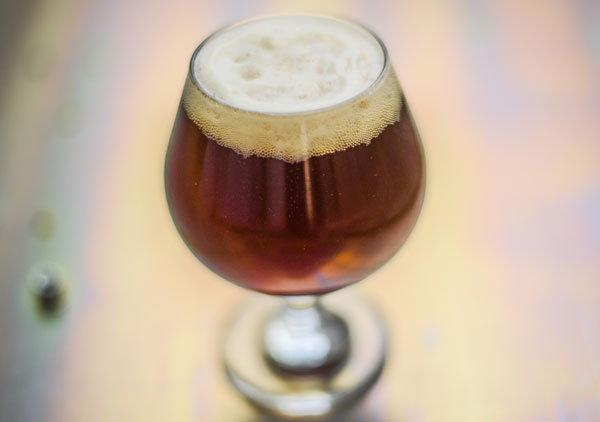 In true Burton beer fashion, this beer is largely focused on perfection of water quality alongside traditional English malts and hops.
There's a history behind why people love this beer. There once was a British euphemism, "gone for a Burton." It was thought to have originated from a story about a British pilot who didn't return from a mission during the Battle of Britain and was said to have "gone for a Burton." It basically suggested he'd stepped out for a beer and may not return after a while. Funny thing…this beer's about the same. It's going to be an investment of your time and your space, but a year later you're going to have what many Americans believe to be a "smoky IPA", or a strong ale similar to a pale ale, but much darker and sweeter than India Pale Ale. This English style results in a more sophisticated, mature flavor due to prolonged cellaring that allows special flavors to develop.
This recipe was originally written by Jeff Renner in the 2012 November/December issue of Zymurgy.
Ingredients
For 5 gallons (19 L)
10.5 lb. (4.75 kg) Maris Otter pale malt
1.0 lb. (0.45 kg) flaked maize
5.0 oz. (141 g) British chocolate malt
3.0 fl. oz. (90 ml) blackstrap molasses
3.0 oz. (85 g) Fuggles hops, 4.6 % a.a.
Wyeast 1968 ESB Ale Yeast or White Labs WLP002 English Ale Yeast
Specifications
Original Gravity: 1.069
Final Gravity: 1.022
ABV: 6.2%
IBU: 68
SRM: 40
Boil Time: 90 minutes
Efficiency: 75%
Directions
Adjust water to moderate residual alkalinity and approximately 200 ppm calcium content with calcium sulfate. Mash at 156°F (69°C) and hold for starch conversion. Boil for 90 minutes adding the Fuggles hops at the beginning and adding molasses near the end. Bulk age as long as you can, up to a year. Dry hop with East Kent Goldings hops for two weeks before kegging or bottling.
Extract Version:
Substitute 9 pounds (2 kg) Maris Otter liquid malt extract for the Maris Otter and maize. Steep the chocolate malt in a quart (liter) of water at 158°F (70°C) for 30 minutes, strain, sparge, add to the boiling wort, and proceed with the recipe.