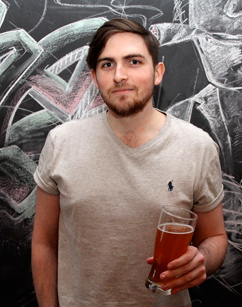 It is easy enough these days to order the highest quality ingredients from every corner of the world and have them at your doorstep in a matter of days. So, what's the attraction of brewing with ingredients available in your own regional-backyard?
A local ingredient, while sometimes not viewed as the highest quality, can be the very component that lends a brew that local flavor, all the while supporting the local economy and elevating community pride.
Nick Mulgrew is one of these people—brewing with what is available from local industry instead of what can be obtained with the click of a mouse. As a resident of Woodstock in the Western Cape region of South Africa, Nick has most of the typical beer ingredients available domestically, as well as local adjuncts that add a truly South African twist to his envisioned Western Cape-inspired pale ale.
Brewing Ingredients of the Western Cape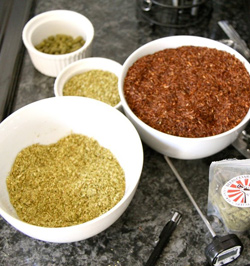 180,000 tons of 2-row malt is produced annually by South African Brewing (SAB), the multinational brewing company that acquired Miller in 2002 to form SABMiller, supplying nearly all South African commercial breweries as well as hobbyists. The base malt Nick has chosen, which makes up the entire grist, is 4-6 EBC and instills light biscuit notes.
SAB also cultivates multiple varieties of hops in the Western Cape, despite not being a traditional crop to the region.
"We don't get a lot of daylight hours," explains Nick, "and as such, our hops don't generally develop the amount of alpha and beta acids that popular overseas varietals contain." Many commercial breweries and homebrewers in South Africa gravitate towards American and Continental European hops over the domestically available varieties.
Nick selected two hop varieties for his recipe. Southern Dawn is a multi-purpose hop that you can add at the beginning of the boil for bitterness or towards the end to capture the fruity notes. The H1/7 is an experimental aroma hop that comes pre-ground into what looks like loose-leaf tea. H1/7 has prevalent sweet citrus and granadilla qualities with prominent clementine characteristics shining through.
The yeast was the only non-South African ingredient used in his pale ale. In Nick's defense, he was told the yeast he was given was propagated in South Africa when it was in fact Safale US-05.
But the ingredient list doesn't stop there. To make this a truly South African homebrew, Nick decided to utilize two additional Western Cape ingredients relatively uncommon in the South African brewing scene: rooibos and fynbos honey.
Rooibos: The Honorary Tea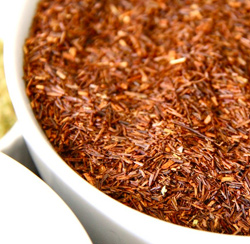 Despite being grouped with teas—rooibos occupies about 25 percent of tea-related shelf space in South Africa—rooibos is in fact a legume. Rooibos has been a staple in the South African culture for generations and its popularity has spread around the world in recent years.
Relatively easy to cultivate and cheap to produce, commercial rooibos manufacturers, both large and small, have grown considerably to meet global demands.
Raw rooibos leaves are treated much the same as tea leaves, thus the close association between the two. Its leaves are oxidized and fermented, giving the raw, green rooibos its distinguishable red hue. Depending on where the rooibos is grown and how it's processed, flavors and aromas can embody typical woody, earthy, nutty qualities with hints of spice, vanilla and tobacco occasionally making appearances.
"I thought these qualities would complement the characteristics of a late-hopped American pale ale in an interesting way," says Nick. "Plus, I thought it would be a nice experiment!"
With some careful testing, Nick found three teaspoons of rooibos per 500ml of wort steeped at 176°F (80°C) instills the color and balance of earthiness, floralness and tartness he wanted in the pale ale.
Honey of the Slender Forest
As is the case in the U.S., the South African honey industry has small, commercial beekeepers, like the one Nick used, as well as large operations for supplying the masses. Home beekeeping is also beginning to thrive in many parts of the country.
Fynbos honey can be likened to wildflower honey. Fynbos, which from Afrikaans translates to "slender forest," is an overarching categorization of over 9,000 different species of bush-like vegetation, a majority of which are entirely unique to the Western Cape. It is common for other flora to grow amongst fynbos fields, such as flowers of the Erica genus, which gives the honey a slightly dark, amber color with delicate floral notes.
Nick describes the fynbos honey he used as "lightly floral—but not as much as say, orange blossom honey, and lightly spicy."
Cape Rooibos Ale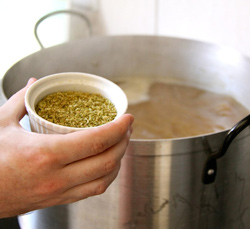 According to Nick, the Cape Rooibos Ale is a lovely orange ale with a good, rocky head, creamy, dry mouthfeel and a good punch of astringent hops and rooibos. "It's tart on the backend with good side notes of granadilla and flowers," says Nick. "I'm going to be making this a lot."
The recipe below includes all the South African ingredients Mulgrew utilized, most of which can be purchased from his local homebrew shop Beerguevara. Homebrewers can also substitute the hops and malt for locally available ingredients while maintaining the rooibos addition to make their own twist of this South African pale ale. Phuzani ("let's drink" in Zulu)!
Ingredients for 4 US gallons (15.1 L)
7.7 lb (3.5 kg) | pale malt
0.35 oz (10 g) | Southern Dawn pellet hops, 11% AA (60 minutes)
0.18 oz (5 g) | Southern Dawn pellet hops, 11% AA (45 minutes)
0.35 oz (10 g) | H1/7 ground hops, unknown AA (5 minutes)
0.88 oz (25 g) | H1/7 ground hops, unknown AA (0 minutes)
6.7 oz (190 g) | Rooibos
Fynbos Honey (enough to bottle prime)
Safale US-05
Directions
Mash malt at 156°F (69°C) for one hour. Conduct a 60 minute boil, following the hop schedule above. Add the rooibos when the temperature drops to 176°F (80°C). If using a wort chiller, allow the rooibos to steep for 10 minutes before continuing to cool the wort.
Ferment in primary for 4-5 weeks. Carbonate to 2.8-3.0 volumes using fynbos honey.
Homebrewers Association
Homebrewers Association