Link to article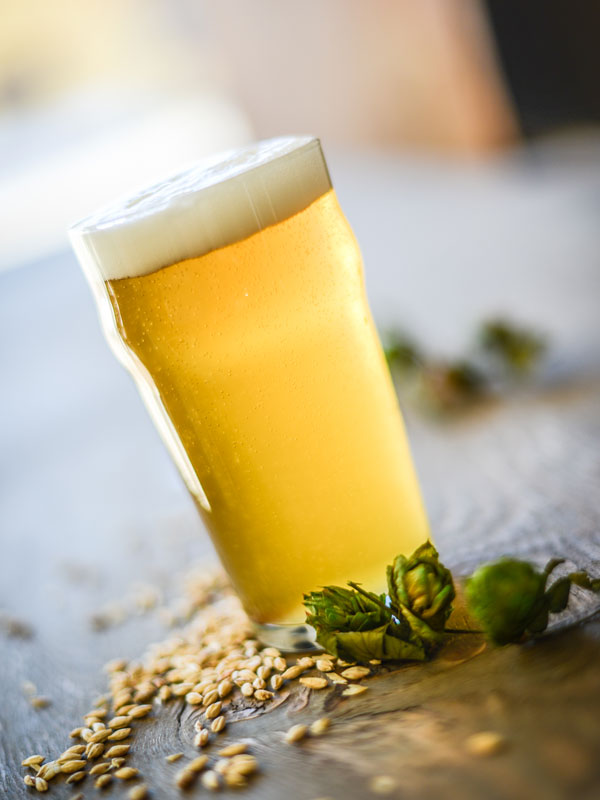 We all have our comfort beers, those anytime drinkers we reach for by default when we want to enjoy a beer but don't care to make a big deal of it. In Ireland, it's dry stout. In England it's ordinary bitter. And in Bavaria, it's helles. Helles is a pale southern German lager that by appearance could easily be mistaken for any run-of-the mill generic green-bottle lager. But one sip melts away your preconceptions of the ordinary and lands you squarely within the leafy confines of a Munich biergarten.
Helles as we know it today was first brewed at Munich's Spaten brewery in 1894 by Anton, Johann, and Carl Sedlmayr, sons of famed brewmaster Gabriel Sedlmayr. After testing it out on their northern German compatriots, the brothers released Spaten Münchner Hell to the Bavarian capital on June 20, 1895. The golden helles lager was Munich's answer to Pilsner, a Bohemian innovation that had been chipping away at the market share of traditional dunkel lager for 50 years.
The German word helles means light, bright, or clear, all of which are apt descriptors for this most delicate and elegant of pale lagers. The Brewers Association (the American Homebrewers Association's parent organization) offers a concise style profile for Munich helles:
Munich Helles lagers are pale to golden. There should be no chill haze. This is a malt aroma and flavor emphasized beer style. Malt aromas and flavors are often balanced with low levels of yeast-produced sulfur aromas and flavors. Malt character is sometimes bread-like yet always reminiscent of freshly and very lightly toasted malted barley. There should not be any caramel character. Hop aroma is not perceived to low. Hop flavor is very low to low, deriving from European noble-type hops, with hop flavor not implying hop bitterness. Hop bitterness is low, deriving from European noble-type hops. Fruity-ester aromas and flavors should not be perceived. Diacetyl aroma and flavor should not be perceived. Body is medium.
Original Gravity: 1.044 – 1.050 (11.0–12.4° P)
Final Gravity: 1.008 – 1.012 (2.1–3.1° P)
Alcohol by Volume: 4.8 – 5.6%
Bitterness: 18 – 25 IBU
Color: 4 – 5.5 SRM (8–11 EBC)
Helles lagers are served in liter-sized mugs in the biergartens of Munich. These oversized servings are brewed for local consumption and usually boast less than 5% alcohol by volume, which for me is firmly within session territory. Examples above 5% are often given export designation, as the slightly higher alcohol level makes them more suitable for shipping to foreign markets.
Brewing your own Munich helles at home is deceptively simple—the ingredients are readily available, and recipes rarely call for more than one or two kinds of malt and a couple of hop varieties. The challenge of helles, like that of any light lager, lies almost entirely in process. It's one worth rising to.
Munich Helles Recipes
Now that you're ready to make your own Munich helles, check out our tried-and-true homebrew recipes.
*Denotes a recipe that has earned gold in the final round the National Homebrew Competition (NHC). Browse through all of our NHC gold medal homebrew recipes.
My preference is to conduct a two-stage Hochkurz mash with beta amylase and alpha amylase rests at around 145° F (63° C) and 162° F (72° C), respectively. If I have plenty of time and it's a nice day (I usually brew outside), I'll sometimes use decoctions to move from the first rest to the second, or from the second to an optional mash-out at 170° F (77° C), but most of the time I simply add boiling water to achieve the temperature change. A single-temperature infusion mash can also turn out an excellent helles if you don't want to go the multi-step route.
I don't bother with a protein rest, but I do go out of my way to ensure the mash pH is around 5.3. Getting the pH right with a simple grist of pale malt (Go with 100% Pilsner malt unless you have a good reason to do otherwise) usually means adding a measured amount of acidulated malt or lactic acid. Kai Troester's excellent article "Mash pH: Beer Color and Grist Acidity" in the Sept/Oct 2011 issue of Zymurgy dives more deeply into the chemistry.
If you prefer to brew from extract, all you need is Pilsner malt extract syrup, sometimes called "extra light" or "extra pale." I like to steep a bit of Briess CaraPils® or Weyermann CaraFoam® to add some fresh malt character, but darker caramel and crystal malts aren't appropriate.
I boil for 90 minutes and aim for about 20 IBU at the 60-minute mark, with a small flavor addition 15 minutes before the end of the boil. For convenience, I use just a single hop variety for bittering and flavor, typically Hallertauer Mittelfrüh, but any of the noble varieties work well—freshness trumps variety every time, in my opinion. If you brew 5-gallon (18.9 L) batches, a 2-oz. (57 g) bag of hops is usually enough to cover both bitterness and flavor additions.
Weihenstephan 34/70 is a great all-purpose lager yeast (available in dry form as Fermentis Saflager W-34/70), but my favorite Munich helle (the plural of helles) have been made with White Labs WLP835 German Lager X (purportedly sourced from Kloster Andechs) and Wyeast 2352 Munich Lager II (possibly from Augustinerbräu), neither of which is a permanent fixture in either lab's year-round offerings. Good year-round options include Wyeast 2308 Munich Lager and White Labs WLP838 Southern German Lager Yeast.
The major professional German brewing texts advise pitching about 15 to 20 million cells per milliliter of standard-strength wort, which works out to about 3 or 4 liquid yeast packs. If you don't want to buy that much yeast, make a 1.5- to 2-liter yeast starter with one yeast pack and a stir plate.
Helles fermentation is relatively quick for a lager thanks to the style's low gravity. Pitch a large yeast slurry into cold wort a couple of degrees below your intended fermentation temperature—say, 48° F (9° C) for a 50° F (10° C) ferment—and be patient. At such a cold temperature, it might take some time for visual cues of fermentation to develop. Rest assured that if you pitch enough yeast, it'll take off.
Let it ride for about a week, raise the temperature to 60° F (16° C) for a two- to three-day diacetyl rest, and then drop it down to just a tick or two above freezing for a couple of weeks of cold lagering. This is a classic approach, but many homebrewers are finding they can turn a lager around even faster. For tips on how to accelerate the return on your lager investment, check out Mike "Tasty" McDole's "Fast Lager Yeast Fermentations" presentation in the Homebrew Con archives.
Bottle or keg with 2.6 volumes (5.2 g/L) of carbon dioxide, and you've got the perfect session beer for long summer days. Serve by the liter and enjoy the sunshine. Prost!
* * *
Dave Carpenter is editor-in-chief of Zymurgy magazine.