Link to article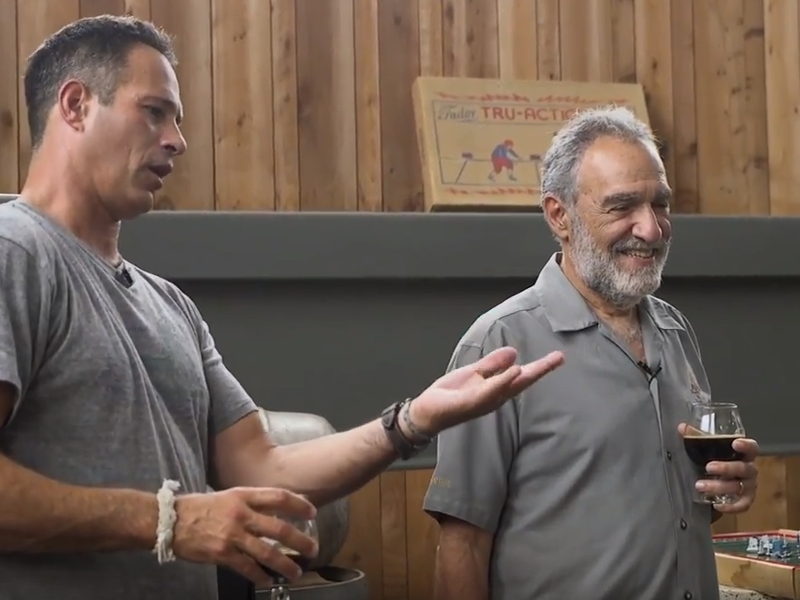 To celebrate the craft beer industry's roots in homebrewing, longtime friends Sam Calagione (founder of Dogfish Head Craft Brewery) and Charlie Papazian (founder of the American Homebrewers Association and Brewers Association), re-created one of Charlie's most famous homebrew recipes: Goat Scrotum Ale.
The duo got together at the Dogfish Head Craft Brewery in Deleware to bring the eccentric porter recipe to life while digging into the evolution of homebrewing in America and its impact on the beer industry today. Follow along, and find out once and for all how this everything-but-the-kitchen-sink porter got its colorful name.
---
Goat Scrotum Ale Homebrew Recipe
[Editor's note: The following recipe is the version published in The New Complete Joy of Homebrewing (1991) by Charlie Papazian.]
This is a fun beer to brew. It offers you the opportunity to use everything but the kitchen sink as ingredients. Despite its free style it brews a deliciously well balanced, slightly sweet style of porter with interesting nuances. Believe it or not, all of the ingredients were traditionally used in the brewing of porter hundreds of years ago.
Enjoy yourself and do not be fearful; the wonderfulness of this porter is a tribute to creativity and the adventurousness that many homebrewers develop. Relax. Don't worry. And this is certainly a session of brewing with friends that calls for having a homebrew.
(Commercial breweries, eat your heart out!)
Specs:
Original Gravity: 1.050–1.060 (12.5–15 Brix)
Final Gravity: Your guess is as good as mine
Ingredients for 5 gallons:
5 lb. plain dark malt extract
1 lb. crystal malt
0.25 lb. black patent
0.25 lb. roasted barley
1.5 oz. boiling hops (your choice)
0.25 oz. finishing hops (your choice)
1 cup brown sugar
1 cup blackstrap molasses
2 tsp. gypsum
1 lb. corn sugar
1–2 pckgs. ale yeast
0.75 cup corn sugar or 1.25 cup dried malt extract (for bottling)
And one or all of the following ingredients:
2–4 oz. freshly grated ginger root
1–2 inches brewing licorice or bruised licorice root
2 Tbsp. spruce essence or 0.5 oz. of the new growth from a spruce tree
1–20 Szechuan chile peppers (very optional)
0.25 cup juniper berries (slightly crushed)
6 oz. unsweetened Baker's chocolate
And enough homebrew for you and your friends to enjoy while brewing!
Directions:
First of all, pop a homebrew and dissolve your anxieties.
Next, crush the grain malts and roasted barley and add them to 1.5 gallons of cold water and bring to a boil. Remove the grains with a strainer when boiling commences. Then combine all of the ingredients (except the yeast, finishing hops and bottling sugar) and continue to boil for 45 minutes. Add your finishing hops during the final 2 minutes of boiling.
Have another homebrew.
You can't avoid sparging this potion, so sparge into your fermenter and cold water. Add the yeast when cool. Bottle when fermentation is complete.
When ready, chill, serve, close your eyes and slip back into the eighteenth century. It is a good porter!