Just weeks after President Carter signed the bill that legalized homebrewing, Charlie Papazian and Charlie Matzen launched the American Homebrewers Association (AHA) in Boulder, CO on December 7, 1978 with the publication of the first issue of Zymurgy magazine.
The newly founded AHA held the National Homebrew Competition and Gala Homebrewers Ball on May 5, 1979. Twenty-four brewers submitted 34 entries into 6 categories in that first year's single-day event. This event eventually split off into two separate events, the AHA National Homebrew Competition and the Great American Beer Festival.
In the fall of 1984, Charlie Papazian's book, The Complete Joy of Homebrewing, was first published and helped encourage a revived culture of homebrewing around the world.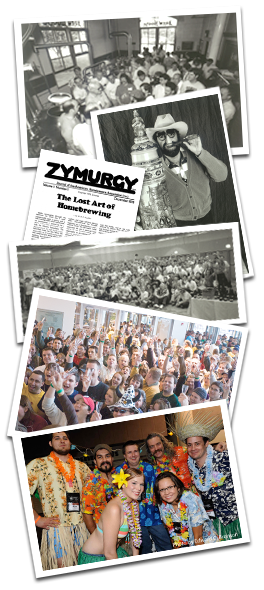 Representative David Skaggs of Colorado announced May 7th as National Homebrew Day before Congress on Monday, May 2, 1988. The American Homebrewers Association celebrates National Homebrew Day every year with Big Brew, held on the first Saturday of May.
Since then, the AHA has grown to more than 40,000 members strong, continued to add events and competitions throughout the years, all while still hosting the AHA National Homebrew Competition and producing Zymurgy magazine and now eZymurgy.
The fight for homebrew legalization concluded in 2013 with Alabama and Mississippi passing bills to permit the making of beer at home. Efforts to improve homebrewers rights continue with matters such as the ability to transport homebrew for the purpose of club meetings and events.
The AHA works for the world's community of homebrewers, providing events, competitions, legislative work and membership benefits for all to enjoy. Become a member of the AHA and you too can be a part of history!
Homebrewers Association
Homebrewers Association