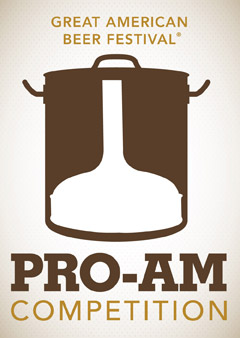 Winners of the 2011 Great American Beer Festival (GABF) Pro-Am Competition were announced on Saturday, October 1, 2011 in Denver, Colorado.
Gold, silver and bronze medals were awarded to the professional and amateur brewers of the top three entries submitted to the competition. Pro-Am competition judges were from the same professional panel of world class judges that evaluated all 3,930 beers at the 2011 Great American Beer Festival.
2011 Great American Beer Festival Pro-Am Competition Winners

Gold: Before Capone
C.B. & Potts Restaurant & Brewery
Westminster, CO
Brewmaster: Dennis O'Harrow
AHA Member: Tom Gardner
Silver: Schwarzherz
Uinta Brewing Co.
Salt Lake City, UT
Brewmaster: Uinta Beer Team
AHA Member: Travis Grimm
Bronze: Kriek
Dry Dock Brewing
Aurora, CO
Brewmaster: Dry Dock Brewers
AHA Member: Ted Manahan
Learn more about the GABF Pro-Am Competition or see the complete winners list from the Great American Beer Festival Competition.
Special thanks to the 2011 Pro-Am Competition sponsors Crosby & Baker, Ltd., and Briess Malt & Ingredients Co., Hopunion and White Labs.