More Than a Magazine
Zymurgy® is the first and last word in homebrewing and beer culture–the preeminent magazine for homebrewers and beer enthusiasts. Zymurgy is more than a magazine to its 56,000 readers—it's a bi-monthly journal that they read to gain the latest information and advice that will support their passion for brewing and drinking quality beer. Not only that, most Zymurgy readers are American Homebrewers Association members, so you can rest assured that your advertising is being seen by an engaged audience, not just someone idly leafing through a newsstand copy. Readers trust Zymurgy and support the businesses that advertise in it.
Print Zymurgy
Zymurgy Contents
Beer news, gadgets, jokes, reader reviews, letters to the Editor, answers to homebrewing questions, beer style insight, news and recipes from competitions around the world, events and beer happenings, homebrew shop listings, equipment and much more.
Preview a free copy of Zymurgy
Product Showcase
The Product Showcase is printed in the March/April and September/October editions and features six products. We do the design for you! Cost: $375.
---
2021 Print & Digital Release Schedule
| Zymurgy Issue | Editorial Focus | Space Close | Artwork Due | Mail Date |
| --- | --- | --- | --- | --- |
| Jan. / Feb. | Gadgets | October 30, 2020 | November 6, 2020 | Mid- December 2020 |
| Mar. / Apr. | Experiments with Kveik | January 4 | January 8 | Mid- February |
| May / Jun. | Sensory Analysis & Troubleshooting; Big Brew Day Gear Guide | February 26 | March 5 | Mid-April |
| Jul. / Aug. | The Science of Brewing | April 30 | May 7 | Mid-June |
| Sept. / Oct. | National Homebrew Competition | July 2 | July 9 | Mid-August |
| Nov. / Dec. | Clone Recipes & Going Pro; Holiday Gift Guide | September 3 | September 10 | Mid- October |
| Jan. / Feb. 2022 | TBD | October 29 | November 5 | Mid- December |
Zymurgy Online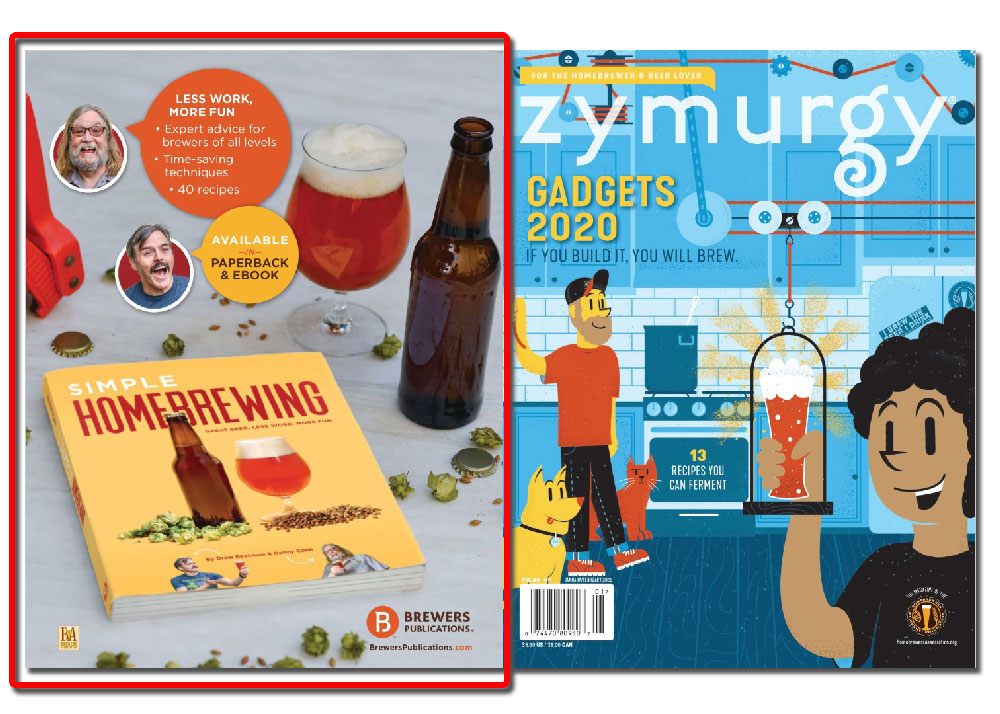 Zymurgy® Online is the complete online version of Zymurgy magazine, and is available to all AHA members. All digital advertisements in Zymurgy Online will link directly to advertisers' websites for immediate web exposure.
72,000
Page Views per Month
Special Features of Zymurgy Online
Search individual issues or the entire Zymurgy Online archive.
Use the contents drop down menu to go directly to a feature, department or recipe
Adjustable zoom
Embedded hyperlinks
Mark pages as Favorites so you can easily find features or recipes you want to reference in the future
Add your own personal notes to a page
Customizable audio and video effects
Accessible anywhere you have an internet connection
Preview a Free Copy of Zymurgy
The following benefits are included with your sponsorship:
Digital Home Page: A full-page advertisement will brand the entire page left of the cover when readers access Zymurgy Online (specifications: 8.375″w x 10.875″h, PDF). Your logo will also be prominently displayed on the menu, contents view, ad list, and archives (specifications: 265 pixels wide x 65 pixels high, JPG).
Vertical Advertisement: A vertical advertisement will display to the right of each spread providing additional exposure to all readers for the entire duration of viewing the publication (specifications: 120 pixels high x 600 pixels high, JPG).
Zymurgy Online Email Announcement: With each new issue of Zymurgy Online, we will send an email announcement to over

≈

39,000 AHA members with your logo prominently displayed with the image of the Zymurgy cover.
Zymurgy Online Preview Home Page: When readers access Zymurgy Online preview on HomebrewersAssociation.org your logo will be prominently displayed with the image of the Zymurgy cover.advice, etc.
| Additional Functionality | |
| --- | --- |
| Animation | $450 |
| Video | $450 |
Advertising Policy: Advertising on HomebrewersAssociation.org is subject to the HomebrewersAssociation.org Advertising Policy
---
Get in touch with our advertising specialists
Kari Harrington
Business Development Manager for Advertising & Sponsorship (West)
Kevin Doidge
Business Development Manager for Advertising & Sponsorship (East)