Learn to Homebrew Day: Nov. 6, 2021
Brought to you by Fermentis
Fermentis
In 1999, Learn To Homebrew Day was established by the American Homebrewers Association to promote the most rewarding, and delicious activity of all time — homebrewing.
On the first Saturday in November, thousands of people celebrate Learn to Homebrew Day. Homebrewers worldwide brew beer and learn about the hobby of homebrewing.
---
Learn to Homebrew Day 2020 Recap
This content will be dynamically populated by big-brew.module.js
Participants
States & Territories
Countries
Gallons
---
Get a Headstart on Homebrewing!
Access Beer Recipes

recipe
Fermentis Video
Brewing with Fermentis Yeast
Discover 10 reasons why you should be using active dry yeast from Fermentis—the official Learn to Homebrew Day 2020 Sponsor.
Fermentis Video
Brew. Read. Repeat.
What pairs well with a glass of your own homebrew? A good book…preferably on the topic of homebrewing.
Brewers Publications
Tutorials
How To Brew
You'll be cracking open a bottle of your own brew in no time with these step-by-step guides for making beer at home.
Tutorials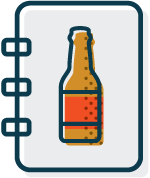 homebrew shop directory
Get Supplies
Find everything you need to brew your next batch by visiting your local homebrew supply shop.
homebrew shop directory
Spread the Word
Use these digital images to share your participation and recruit more brewers!
social assets