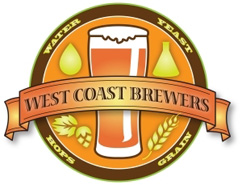 Name: West Coast Brewers – Perth, Western Australia
Founded: 1998
Membership: 32 registered members and growing!
Location: Perth, Capital of Western Australia
Email: secretary@westcoastbrewers.com
Website: WestCoastBrewers.com
Membership Dues: $70 yearly
Who we are and how we got started/why we got started:
The West Coast Brewers (WCB) started fourteen years ago when the brewing scene was pretty much an underground operation. Full mash brewers had nowhere to source their ingredients, so a few "mates" (which in Oz means "buddies") formed a small buyers' group, and the rest, as they say, is history.
Kit beers were already easily available from the local brew shops, but none stocked quality grain or fresh liquid yeast. Brewing equipment available was also very basic, and large stainless steel kettles or grain mills were the stuff of dreams without a homebrew club structure giving access to overseas ordering.
Our club vibe:
These days, the "WCBers" are a group of about 30 passionate brewers who meet monthly. We cater to all types of brewers, from kits and extract to brew in a bag and all-grain. The club has an education series that covers all aspects of our beloved hobby with multimedia and hands-on presentations, often from one of our more experienced members. We are blessed with a very healthy local microbrewing scene in Western Australia, so local brewers and beer gurus are always happy to drop by for a guest appearance and an occasional talk on various aspects of brewing commercially.
Club members enjoy a wide range of success when entering state and national competitions. Some of our club's members are also individually involved in the organizing of the yearly WA State Amateur Championship, since 2007.
Whenever possible, we all get together for a brew day at one of our member's breweries (or kitchen). The local breweries have also been very supportive in hosting presentations and brew days for our members.
A majority of our members are all-grain brewers, but a fair bit brew with extracts and the quality is definitely on par! We also have mead advocates, offering eye-opening mead tastings and presentations. Equipment varies, from basic kitchen set-ups to full scale brewing installations that nearly resemble a professional operation.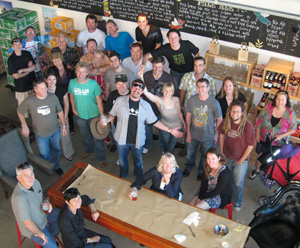 Australia can get very, very hot, especially in Perth, and nothing beats the heat like a well-brewed, artisan beer! And if you just happen to be the brewer; this has to be total bliss!
Meetings:
The second Monday of every month.
Competitions:
We hold quarterly competitions with specific themes or challenges; from Belgian and French-themed jousts, to dark and stormy winter brews. We have few BJCP certified judges amongst our members, even a Master Level BJCP judge, and also the only resident Australian Certified Cicerone!
Fun Activities:
We just had an excellent presentation by one of our own members, on how-to grow hops in our hot weather, in Perth. It was a great success, and all attending members left the meeting with their own cutting to plant and grow hops at home!
The Christmas party is by far the most anticipated, as here in the Southern Hemisphere, Christmas falls in Summer, and with the heat being anywhere between 38-43ºC (100-110ºF), one would kill for a tasty and cold craft beer…or two!
Homebrewers Association
Homebrewers Association