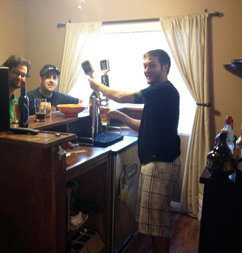 Justin Wotring, a Michigan transplant currently residing in California, has been brewing for three years, is a recent AHA member, and an active member in the Addison Homebrew Provisions Club of Fullerton, Calif. After his wife gave him the OK to purchase a kegerator, Wotring claims his homebrewing life changed forever. One of the taps is reserved for a commercial "guest" keg while the other two taps are used for his homebrew. Since Justin didn't have to spend as much time in the bottling process, he had an opportunity to bring his kegerator to the next level by constructing his own bar to display the three taps. Here is what Justin has to say about the process:
When I brought my new kegerator home it was kind of an eyesore sitting in the unused corner of our condo, so I brought up the idea to my wife about building a bar around it. To my surprise, she agreed! Since I had absolutely no woodworking experience, I began scouring the Internet for bar plans.
There were several plans to choose from, which I narrowed down to a straight, eight foot bar from barplan.com. In order to accommodate the kegerator, I added a few more inches to the height and depth. Birch was my material of choice because it will resist dings and scratches more than a softwood, such as pine, and it picks up stain well. I decided on a dark walnut stain and sealed the bar top with Envirotex Lite.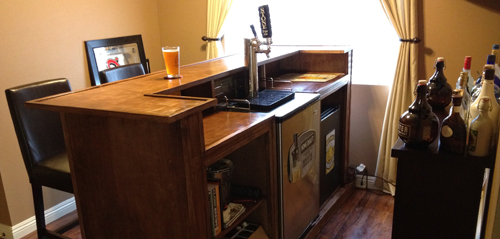 The center of the bar features my three tap kegerator, the right holds my compact refrigerator for bottles and mixers, and the left has a shelf for brewing books, magazines, and miscellaneous bar equipment, as well as a mounted bottle opener. The build took 48 hours of labor, and after returning unused materials the cost was about $500. Add two barstools and a 10″ table saw, and the total cost of the build was around $900.
While the wife and kid rule the living room, I rule my bar! It's a great feeling to come home from a long day at work and sit at my own personal bar with my homebrew on tap and watch some sports. I've become the envy of my neighborhood with the other dads who need a break, and I've made it known that I have an open door policy…just bring a brew to share! Thanks to my wife for letting me make my dream into a reality!
Homebrewers Association
Homebrewers Association