2014 Big Brew Recap
Events: 437
Participants: 8,000
Batches Made: 2,200
Gallons Brewed: 17,550
Participating States: 49
Participating Countries: 14
Mark your calendars for next year's Big Brew on May 2, 2015!
Registration is Now Closed
May 3, 2014
Celebrate National Homebrew Day
In 1988, May 7 was announced before Congress as National Homebrew Day. The American Homebrewers Association (AHA) created AHA Big Brew as an annual event to celebrate National Homebrew Day around the world. AHA Big Brew is held each year on the first Saturday in May.
Anyone, even homebrew shops, can host and register a Big Brew event, so invite your friends and family, gather around the brew kettle and join in the global celebration of the greatest hobby there is—homebrewing!
2014 Official Recipes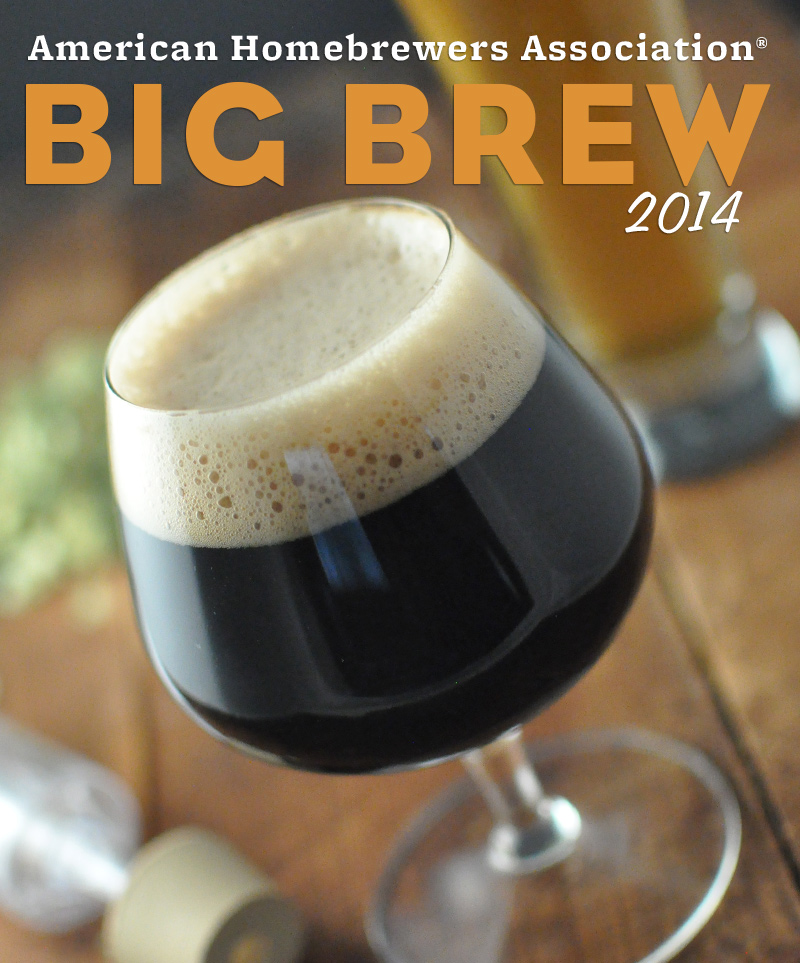 In anticipation of the 2014 National Homebrew Competition, the 2014 Big Brew Recipes are all gold medal winners from last year's competition in BJCP categories 10- Pale Ale, 13- Stout, and 4- Dark Lager.
Heath and Eileen Haynes won category 10 in last year's National Homebrew Competition for their Regal Pale Ale, a beer that Heath was inspired to brew while stopping in the Naples Restaurant to order a Drifter Pale Ale from Widmer Brothers on a trip to Disney World several years ago.
Split Open and Melt Imperial Stout – All Grain
Split Open and Melt Imperial Stout – Extract
Pat Craddock grew his own Chinook and East Kent Goldings hops to brew this recipe for an Imperial Stout. Pat notes that any Phish fans out there will know where the inspiration for the name of the beer comes from!
Black Dog Lager Schwarzbier – All Grain
Black Dog Lager Schwarzbier – Extract
Jeffrey Lewis took home the gold medal in the 2013 National Homebrew Competition for this stellar recipe for Schwarzbier, which is a German dark lager. Schwarzbier has never made an appearance as a recipe for Big Brew in the past, and the AHA is proud to highlight this exciting style to homebrewers around the world!
---
Celebrate Big Brew in 2014
Don't Miss the Simultaneous Toast noon CDT on May 3, 2014!
Big Brew Promotional Materials
Spread the Joy
Promotional materials: if you are hosting a Big Brew event that is open to the public, use the AHA's downloadable promotional materials to help spread the word about your gathering.
Let's Brew: explore this section for brewing tutorials, tips on making better beer and tasty recipes.
Zymurgy: An Introduction to Homebrewing: request copies of the AHA's guide for the new brewer–or access it online.
Homebrewopedia: a wiki-style resource containing a large library of recipes, a glossary of brewing terms, homebrew club resources and much more!
AHA store: pick up the latest homebrewing books or issues of Zymurgy magazine.
Share the Experience
Be sure to share your stories, pictures and videos from Big Brew on the AHA's Facebook and Twitter. Tag your posts with #BigBrew.
If you enjoyed your Big Brew experience, join the AHA and participate in our other events!
---
Questions?
PHOTOS SUBMITTED BY BIG BREW PARTICIPANTS